---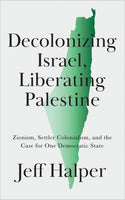 by Jeff Halper
Pluto Press
1/20/2021, paperback
SKU: 9780745343396
For decades we have spoken of the 'Israel-Palestine conflict', but what if our understanding of the issue has been wrong all along? This book explores how the concept of settler colonialism provides a clearer understanding of the intentions and power dynamics of the Zionist movement as it endeavoured to Judaize Palestine, displacing the Palestinian Arab population and eliminating its cultural presence. Jeff Halper argues that the only way out of a colonial situation is decolonization: the dismantling of Zionist structures of domination and control and their replacement by a single democratic state, in which Palestinians and Israeli Jews forge a new civil society and a shared political community. To show how this can be done, Halper uses the 10-point program of the One Democratic State Campaign as a guide for thinking through the process of decolonization to its post-colonial conclusion. Halper's unflinching reframing will empower activists fighting for the rights of the Palestinians and democracy for all.
Reviews:
"Jeff Halper harnesses his extremely sharp and original mind alongside his prophetic voice to change the international debate. A gem for both the novice as well as the expert his book offers a brilliant analysis of Israel's colonial project and outlines what a decolonial horizon might look like'" - Neve Gordon author of 'Human Shields: A History of People in the Line of Fire'
"It is fashionable to say that the two-state solution to Israel-Palestine is dead. Jeff Halper thinks it was never born. In this brave thought-provoking and highly original book he presents both a searching critique of Zionist settler colonialism and a compelling case for one democratic state with equal rights for all its citizens'" - Avi Shlaim Emeritus Professor of International Relations at Oxford and author of 'The Iron Wall: Israel and the Arab World'
About the Author:
Jeff Halper is the head of the Israeli Committee Against House Demolitions (ICAHD) and a founding member of the One Democratic State Campaign. He is the author of War Against the People: Israel, the Palestinians and Global Pacification (Pluto, 2015), An Israeli in Palestine (Pluto, 2010), Obstacles to Peace (ICAHD, 2003 and subsequent editions) and Redemption and Revival: The Jewish Yishuv in Jerusalem in the Nineteenth Century (Westview, 1991).