---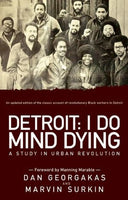 by Dan Georgakas and Marvin Surkin
Haymarket Books
8/21/2012, paperback
SKU: 978160846221
Detroit: I Do Mind Dying tracks the extraordinary development of the Dodge Revolutionary Union Movement and the League of Revolutionary Black Workers, as they became two of the most vital political organizations of the 1960s and 1970s. Widely heralded as one the most important books on the black liberation movement and labor struggles in U.S. history.
About the Authors:
Marvin Surkin, PhD, Political Science, New York University, New York, NY is a specialist in comparative urban politics and social change. He conducts workshops on Workplace and Community Organizing, Urban Political Economy, and Urban Renewal in the U.S.A. and its Significance for Development in the Third World, and Comparative Urban Architecture. Surkin worked at the center of League of Revolutionary Black workers in Detroit.
Dan Georgakas is a writer, historian, and activist, and co-editor of Solidarity Forever: An Oral History of the IWW, Encyclopedia of the American Left, and The Immigrant Left in the United States. He is a longtime editor of Cineaste magazine and has contributed to numerous film anthologies and journals.
Reviews:
"First-rate and absolutely fascinating. This particular piece of American history has never been covered in such depth...everyone who is concerned with political change will learn a lot from this book." -- New York Times
"Detroit: I Do Mind Dying is a beautiful, riveting account of one of the most important radical movements of our century - a movement led by black revolutionaries whose vision of emancipation for all is sorely needed today." -- Robin D. G. Kelley
"[T]he insights offered by the league...remain as urgent and relevant today as they were in the 1970s." -- H-Net Book Review
"A historical narrative of the single most significant political experience of the 1960's." -- Fredrick Jameson