---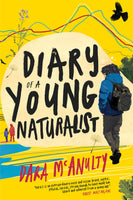 by Dara McAnulty
Milkweed Editions
07/07/2022, paperback
SKU: 9781571311832
From Dara McAnulty, a globally renowned figure in the youth climate activist movement, comes a memoir about loving the natural world and fighting to save it.
Diary of a Young Naturalist chronicles the turning of a year in Dara's Northern Ireland home patch. Beginning in spring -- when "the sparrows dig the moss from the guttering and the air is as puffed out as the robin's chest" -- these diary entries about his connection to wildlife and the way he sees the world are vivid, evocative, and moving.
As well as Dara's intense connection to the natural world, Diary of a Young Naturalist captures his perspective as a teenager juggling exams, friendships, and a life of campaigning. We see his close-knit family, the disruptions of moving and changing schools, and the complexities of living with autism. "In writing this book," writes Dara, "I have experienced challenges but also felt incredible joy, wonder, curiosity and excitement. In sharing this journey my hope is that people of all generations will not only understand autism a little more but also appreciate a child's eye view on our delicate and changing biosphere."
Winner of the Wainwright Prize for UK nature writing and already sold into more than a dozen territories, Diary of a Young Naturalist is a triumphant debut from an important new voice.
Reviews:
"At once a lush and moving mediation and an electric clarion call to action, Diary of a Young Naturalist is a kaleidoscope of sensory delights. McAnulty's year of observing barn owls, cowslips, bracket fungus, springtails, corncrakes, and the exquisite rendering of summer's first blackberries (just to name a few) -- make for a superbly rendered peek into a most extraordinary life. Each page vibrates with a hum of tenderness and bright possibilities for readers to take stock and joyful note of the world around them. This book will change your life if you let it. Go on, let it." -- Aimee Nezhukumatathil, author of World of Wonders
"In this stunning debut... McAnulty delivers a galvanizing love letter to nature... The author's lush prose enchants as he chronicles a year of campaigning for climate justice and exploring the vastness of Northern Ireland's outdoors... This should be required reading." -- Publishers Weekly
"If there was one nonfiction book I would give to school-age kids for Autism Acceptance Month, it would be this. Not only is McAnulty a fledgling world-changer, he's a brilliant naturalist and future professional ecologist. This book follows him through three seasons, where he and his family explore the wild -- and not so wild -- areas of Northern Ireland and Scotland. McAnulty's utmost passion is ornithology, and it shows in his profuse enthusiasm for our fine feathered friends. With colorful prose and evocative imagery, McAnulty makes case after case for introducing programs to help conserve what we already have, and to further introduce (or reintroduce, in some cases) natural life that bolsters and revives ecosystems already in place. What's more, he ruminates on how autism has released in a flood this passion for our wild world... More kids, more adults, more people need to read this book to understand how 'disabled' simply means 'differently abled.'... I'll be recommending this book to every single person I know and putting it into the hands of every patron I come across." --Caitlin Theroux, Thomaston Public Library
About the Author:
Dara McAnulty is the author of Diary of a Young Naturalist. He lives with his mum, dad, brother Lorcan, sister Bláthnaid, and rescue greyhound Rosie in County Down, Northern Ireland. He is the recipient of the Wainwright Prize for nature writing. Dara's love for nature, his activism, and his honesty about autism have earned him a huge social media following from across the world, and many accolades. In 2017, he was awarded BBC Springwatch "Unsprung Hero" and Birdwatch magazine "Local Hero"; in 2018, he was awarded "Animal Hero" of the year by the Daily Mirror and became ambassador for the Royal Society for the Prevention of Cruelty to Animals and the iWill campaign; and in 2019, he became a Young Ambassador for the Jane Goodall Institute and became the youngest-ever recipient of the Royal Society for the Protection of Birds Medal for conservation.