---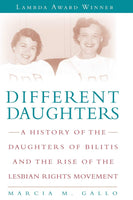 by Marcia M. Gallo
Seal Press
9/28/2007, paperback
SKU: 9781580052528
Nearly fifteen years before the Stonewall Rebellion and the birth of gay liberation came the Daughters of Bilitis (DOB). Like its predominantly gay male counterparts, the Mattachine Society and ONE, Inc., DOB was launched in response to the oppressive antihomosexual climate of the McCarthy era, when lesbian and gay people were arrested, fired from jobs, and had their children taken away simply on the basis of their sexual orientation. It was against this political backdrop that in 1955 a circle of San Francisco women formed a private club where lesbians could meet other lesbians in a safe, affirming setting. A year later, they produced The Ladder, the first ongoing monthly magazine for lesbians. Over the next two decades, what began as a small social group evolved into a national women's organization that counted more than a dozen chapters.

In Different Daughters, Marcia Gallo draws on interviews with former members of DOB, many of whom have never spoken on record before, as well as extensive research in both archival and personal collections. She chronicles how through its leaders, magazine, and international network of activists, the Daughters played a crucial role in creating lesbian identity, visibility, and political strategies in Cold War America--and in the process laid the foundation for today's lesbian and feminist movements.
About the Author:
Marcia M. Gallo is Assistant Professor of History at the University of Nevada, Las Vegas. She received her PhD in history with specialization in gender and sexuality from the City University of New York Graduate Center in 2004. Her book, Different Daughters: A History of the Daughters of Bilitis and the Rise of the Lesbian Rights Movement, won the 2006 Lambda Literary Award for Nonfiction and was named one of the best books of the year by the San Francisco Chronicle. In 2007, Gallo received the Passing the Torch Award from the Center for Lesbian and Gay Studies at CUNY for her scholarship on feminist and lesbian activism. She is now working on a book about Catherine "Kitty" Genovese, who was murdered in Queens, New York in 1964 and became an international symbol of urban apathy, the "bystander syndrome," and the failure of community.