---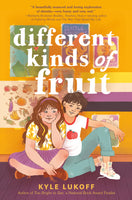 by Kyle Lukoff
Dial Books
04/12/2022, hardcover
SKU: 9780593111185
In this funny and hugely heartfelt novel from the Newbery Honor-winning author of Too Bright to See, a sixth-grader's life is turned upside down when she learns her dad is trans
Annabelle Blake fully expects this school year to be the same as every other: same teachers, same classmates, same, same, same. So she's elated to discover there's a new kid in town. To Annabelle, Bailey is a breath of fresh air. She loves hearing about their life in Seattle, meeting their loquacious (and kinda corny) parents, and hanging out at their massive house. And it doesn't hurt that Bailey has a cute smile, nice hands (how can someone even have nice hands?) and smells really good.
Suddenly sixth grade is anything but the same. And when her irascible father shares that he and Bailey have something big -- and surprising -- in common, Annabelle begins to see herself, and her family, in a whole new light. At the same time she starts to realize that her community, which she always thought of as home, might not be as welcoming as she had thought. Together Annabelle, Bailey, and their families discover how these categories that seem to mean so much -- boy, girl, gay, straight, fruit, vegetable -- aren't so clear-cut after all.
Target age: 10 to 14
Reviews:

"Kyle Lukoff's remarkable Different Kinds of Fruit will be as meaningful to young readers today as Judy Blume's Are you There God? It's Me, Margaret was for generations of readers before them." - BookPage 
"Lukoff masterfully portrays the personalities, both child and adult, that Annabelle comes to know, believes she knows, and those whom Annabelle questions can ever know her... This one belongs in every library serving grade-school kids." - School Library Journal
"This is a valuable, informative, entertaining, and realistic read for middle school students." - School Library Connection 
"Lukoff reflects diversity in the world around Annabelle while also heightening her awareness of spaces that are not as inclusive as they claim to be and exploring what to do with that understanding. Inquisitive, engaged, and action-seeking." - Kirkus Reviews 
"Lukoff offers a story with vivid, well-rounded characters that never talks down to kids... Themes of inclusion and privilege in today's society are seamlessly integrated into the familiar plot of a kid's first crush, and the focus on the great ways that communities can come together to keep everyone within it safe is a gratifying through line." - Booklist
"Bighearted and affirming." - Publishers Weekly
"This exploration of gender issues will engage readers with its satisfying progression as the sixth graders fight a bigoted mother in the classroom and take steps to join the wider LGBTQ+ community." - The Horn Book

About the Author:
Kyle Lukoff is the author of many books for young readers. His debut middle-grade novel, Too Bright To See, received a Newbery honor, the Stonewall award, and was a National Book Award finalist. His picture book When Aidan Became A Brother also won the Stonewall. He is the co-author of If You're a Kid Like Gavin. He has forthcoming books about mermaids, babies, apologies, and lots of other topics. While becoming a writer he worked as a bookseller for ten years, and then nine more years as a school librarian.