---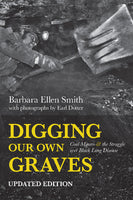 by Barbara Ellen Smith
Haymarket Books
11/10/2020, paperback
SKU: 9781642592757
Employment and production in the Appalachian coal industry have plummeted over recent decades. But the lethal black lung disease, once thought to be near-eliminated, affects miners at rates never before recorded.

Digging Our Own Graves sets this epidemic in the context of the brutal assault, begun in the 1980s and continued since, on the United Mine Workers of America and the collective power of rank-and-file coal miners in the heart of the Appalachian coalfields. This destruction of militancy and working class power reveals the unacknowledged social and political roots of a health crisis that is still barely acknowledged by the state and coal industry.

Barbara Ellen Smith 's essential study, now with an updated introduction and conclusion, charts the struggles of miners and their families from the birth of the Black Lung Movement in 1968 to the present-day importance of demands for environmental justice through proposals like the Green New Deal. Through extensive interviews with participants and her own experiences as an activist, the author provides a vivid portrait of communities struggling for survival against the corporate extraction of labor, mineral wealth, and the very breath of those it sends to dig their own graves.
Reviews:
"Barbara Smith's updated edition of her book, Digging Our Own Graves provides a significant addition to the history of the battles against black lung from its beginnings to our current efforts against resurgent severe disease." --Bob Cohen
"This book offers us a long view on the power of organizing around workplace health and safety that can help frontline workers -- from teachers to grocery and sanitation workers -- strategize now, but also develop long-term strategies for workplace organizing around the impacts of the less-understood, long-term impacts of COVID-19, which are going to force us to bring disability politics more centrally into workplace organizing." --Jacobin
About the Author:
Barbara Ellen Smith is professor of women's and gender studies at Virginia Polytechnic Institute and State University.