---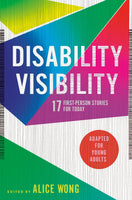 Edited by Alice Wong

Delacorte Press
10/26/2021, hardcover
SKU: 9780593381670
"Disabled young people will be proud to see themselves reflected in this hopeful, compelling, and insightful essay collection, adapted for young adults from the critically acclaimed adult book, Disability Visibility: First Person Stories from the Twenty-First Century that sheds light on the experience of life as an individual with disabilities, as told by none other than authors with these life experiences." -- Chicago Tribune
The seventeen eye-opening essays in Disability Visibility, all written by disabled people, offer keen insight into the complex and rich disability experience, examining life's ableism and inequality, its challenges and losses, and celebrating its wisdom, passion, and joy. The accounts in this collection ask readers to think about disabled people not as individuals who need to be "fixed," but as members of a community with its own history, culture, and movements. They offer diverse perspectives that speak to past, present, and future generations. It is essential reading for all.
Target age: 12 and up
Reviews:
"...this is essential reading." -- School Library Journal
"...uplifting anthology." -- Booklist

"This is a wide-ranging collection presenting diverse and compelling voices. Ardently, intimately political instead of passively inspirational: will galvanize young activists." -- Kirkus Reviews
"This collection is a powerhouse and vital reading." -- Bookriot.com
About the Editor:
Alice Wong is a disabled activist, media maker, and research consultant based in San Francisco. She is the founder and director of the Disability Visibility Project, an online community dedicated to creating, sharing, and amplifying disability media and culture. From 2013 to 2015, Alice served as a member of the National Council on Disability, an appointment made by President Barack Obama. Alice is also the editor of Disability Visibility: First-Person Stories from the Twenty-First Century, an anthology of essays by disabled people.