---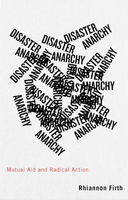 by Rhiannon Firth
Pluto Press
7/20/2022, paperback
SKU: 9780745340463
As disasters become more commonplace, we need to think of alternatives for relief.
Anarchists have been central in helping communities ravaged by disasters, stepping in when governments wash their hands of the victims. Looking at Hurricane Sandy, Covid-19, and the social movements that mobilized relief in their wake, Disaster Anarchy is an inspiring and alarming book about collective solidarity in an increasingly dangerous world.
As climate change and neoliberalism converge, mutual aid networks, grassroots direct action, occupations, and brigades have sprung up in response to this crisis with considerable success. Occupy Sandy was widely acknowledged to have organized relief more effectively than federal agencies or NGOs, and following Covid-19 the term 'mutual aid' entered common parlance.
However, anarchist-inspired relief has not gone unnoticed by government agencies. Their responses include surveillance and co-option, extending at times to violent repression involving police brutality. Arguing that disaster anarchy is one of the most important political phenomena to emerge in the 21st century, Rhiannon Firth shows through her research on and within these movements that anarchist theory and practice are needed to protect ourselves from the disasters of our unequal and destructive economic system.
Reviews:
"Commendable - a book that prepares us to think about and react to the kinds of system failures, collapses, and other disasters that will become increasingly more common over the next decades. Firth complicates the important concept of mutual aid, examining the danger of neoliberal recuperation while emphasising the subversive possibilities at its heart" -- Peter Gelderloos, activist and author of numerous titles, including The Solutions Are Already Here: Strategies of Ecological Revolution From Below
"Firth bridges the theories and methodologies in the continuing development of anarchist and liberatory frameworks of decentralised disaster responses, first articulated after Hurricane Katrina. They demonstrate through personal histories and analysis deeper paths forward in anarchist processes and practices that allow our liberatory imaginations to resist the collapse while creating viable alternatives without state coercion or interference" -- scott crow, author of Black Flags and Windmills: Hope, Anarchy and the Common Ground Collective
"Disaster Anarchy makes an exceptional contribution to the existing literature. Highly original and beautifully written, it is a must read for any activist or scholar interested in exploring utopian alternatives to the status quo, and creating a new society in the shell of the old." -- Richard J. White, Reader in Human Geography, Sheffield Hallam University, Britain
About the Author:
Rhiannon Firth is currently a lecturer in Sociology at UCL. She is the author of two books Utopian Politics: Citizenship and Practice, and Coronavirus, Class and Mutual Aid in the UK. She is active in social movements and popular education projects in London.