---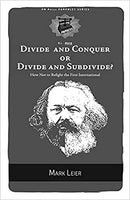 by Mark Leier
PM Press
5/22/2017, staple-bound booklet
SKU: 9781629633831
The battles between Michael Bakunin and Karl Marx in the First International (aka the International Working Men's Association, 1864-1876) began a pattern of polemics and rancor between anarchists and Marxists that still exists today. Outlining the profound similarities between Bakunin and Marx in their early lives and careers as activists, Mark Leier suggests that the differences have often been exaggerated and have prevented activists from learning useful lessons about creating vibrant movements.
Reviews:
"The life of Bakunin (1814-1876), the Russian architect of the anarchist movement, provides a surprisingly enjoyable introduction to the tumult of 19th-century radicalism.... Leier brings welcome consideration to the real merits of the movement."
--Publishers Weekly on Bakunin: The Creative Passion
"Unfailingly informative and frequently exciting, Leier's biography reintroduces a fascinating revolutionary, knowledge of whose ideas helps one place such recent phenomena as the World Trade Organization protests in meaningful historical context."
--Booklist on Bakunin: The Creative Passion
About the Author:
Mark Leier works in the history department of Simon Fraser University. His many books include Bakunin: The Creative Passion.