---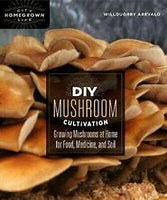 by Willoughby Arevalo
New Society Publishers
7/16/2019, paperback
SKU: 9780865718951
Bring mushrooms into your life as you dive into the practice of home-scale mushroom cultivation.
With applications in permaculture, urban farming, cooking, natural medicine, and the arts, interest in home-scale mushroom cultivation is exploding. Yet many beginners remain daunted by the perceived complexity of working with fungi. DIY Mushroom Cultivation is the remedy, presenting proven, reliable, low-cost techniques for home-scale cultivation that eliminate the need for a clean-air lab space to grow various mushrooms and their mycelium.
Beautiful full-color photos and step-by-step instructions accompany a foundation of mushroom biology and ecology to support a holistic understanding of the practice. Growing techniques are applicable year-round, for any space from house to apartment, and for any climate, budget, or goal. Techniques include:
Setting up a home growing space
Inexpensive, simple DIY equipment
Culture creation from mushroom tissue or spores
Growing and using liquid cultures and grain spawn
Growing mushrooms on waste streams
Indoor fruiting
Outdoor mushroom gardens and logs
Harvesting, processing, tinctures, and cooking.
Whether you hunt mushrooms or dream about growing and working with them but feel constrained by a small living space, DIY Mushroom Cultivation is the ideal guide for getting started in the fascinating and delicious world of fungiculture.
Reviews:
"Willoughby's unique combination of talent, passion, and experience growing and cooking mushrooms has produced this beautiful and informative contribution. Well done, Mycology Maestro!" -Robert Rogers author, The Fungal Pharmacy
"It is simply a fact that as the horrors of climate change descend upon us, ecosystem regeneration will become our overarching drive. Then, finally, we will seek advice and assistance from our beloved ancestors, the forest fungi. Ever forgiving, they will supply our indoor protein, nurture our new forests, financially support our drawdown effort, and mend our damaged world. This delightful book gets all that started in clear language and beautiful illustrations, at home scale and low budget, one new mushroom grower at a time." -Albert Bates owner, Mushroom People, North America's oldest mushroom tools supply company, and author, The Biochar Solution.
"DIY Mushroom Cultivation by Willoughby Arevalo is a great book for those looking to dig deeper into the powerful world of mushroom cultivation and appreciation. Willoughby's knowledge, passion, and sincere love for fungi makes this book a wonderful, accessible, and informative read. The book provides a solid foundation for inspiring and empowering individuals and communities to grow mushrooms for food, healing, and remediation." -Leila Darwish author, Earth Repair: A Grassroots Guide to Healing Toxic and Damaged Landscapes
Willoughby Arevalo is a mycologist, artist, kitchen wizard, father, and educator who made friends with mushrooms as a young child and has been showing people how to work with fungi for the last decade. Willoughby regularly teaches community workshops locally and internationally on mushroom cultivation, ecology, identification, foraging, and cooking, and serves on the Education Committee of the Vancouver Mycological Society. He works on an organic vegetable farm, makes art in relation with fungi, and grows mushrooms at his home in Vancouver, BC.