---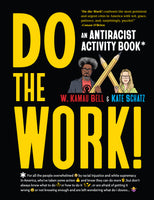 by W. Kamau Bell and Kate Schatz
Workman Publishing
7/19/2022, paperback
SKU: 9781523514281
Overwhelmed by racial injustice? Outraged by the news? Find yourself asking, "What can I doooooo?" DO THE WORK!
Revelatory and thought-provoking, this highly illustrated, highly informative interactive workbook gives readers a unique, hands-on understanding of systemic racism--and how we can dismantle it.

Packed with activities, games, illustrations, comics, and eye-opening conversation, Do the Work! challenges readers to think critically and act effectively. Try the "Separate but Not Equal" crossword puzzle. Play "Bootstrapping, the Game" to understand the myth of meritocracy. Test your knowledge of racist laws by playing "Jim Crow or Jim Faux?" Have hard conversations with your people (scripts and talking points included). Be open to new ideas and diversify your "feed" with a scavenger hunt. Team up with an accountability partner and find hundreds of ideas, resources, and opportunities to DO THE WORK!
Ready to get started?
Reviews:
"Do the Work! confronts the most persistent and urgent crisis in America with wit, grace, patience, and, surprisingly, puzzles!"
--Conan O'Brien
"Since we felt the ground shift...I think we all are looking for concrete ways to create change. This book gives a clear, actionable path to doing that work we have all been talking about. White folks--pick this one up immediately."
-- Megan Rapinoe, World Cup champion, Olympian, and activist
"This clever activity book is a simple, fun resource for anyone looking to better the way they think about race and identity in America. Wonderful and illuminating."
--Padma Lakshmi
About the Contributors:
W. KAMAU BELL is a dad, husband, and comedian. He directed and executive-produced the four-part Showtime documentary We Need To Talk About Cosby, which premiered at Sundance. He famously met with the KKK on his Emmy-Award-winning CNN docu-series United Shades of America with W. Kamau Bell, where he serves as host and executive producer. He has appeared on The Tonight Show with Jimmy Fallon, The Late Show with Stephen Colbert, Conan, The Daily Show with Trevor Noah, CBS Mornings, MSNBC's Morning Joe, Comedy Central, HBO, Fresh Air with Terry Gross, WTF with Marc Maron, The Breakfast Club, and This American Life. He has two stand-up comedy specials, Private School Negro (Netflix) and Semi-Prominent Negro (Showtime). Kamau's writing has been featured in Time, The New York Times, Vanity Fair, The Hollywood Reporter, CNN.com, Salon, and The LA Review of Books. Kamau's first book has an easy-to-remember title, The Awkward Thoughts of W. Kamau Bell: Tales of a 6' 4", African American, Heterosexual, Cisgender, Left-Leaning, Asthmatic, Black and Proud Blerd, Mama's Boy, Dad, and Stand-Up Comedian. He is the ACLU Artist Ambassador for Racial Justice and serves on the board of directors of Donors Choose and the advisory board of Hollaback!
KATE SCHATZ is the New York Times bestselling author of Rad American Women A-Z, Rad Women Worldwide, Rad Girls Can, Rad American History A-Z, and the illustrated journal My Rad Life. She's a writer, public speaker, educator, and left-handed vegetarian Bay Area-born-and-bred queer feminist activist mama. Kate is also a political organizer and frequent public speaker. She's the co-founder of Solidarity Sundays, a nationwide network of over 200 feminist activist groups. She founded the organization in January 2016 with a friend and began by holding a series of monthly "activist house parties" aimed at showing women how to take meaningful, coordinated political action. After the 2016 election, the group grew from one chapter with 50 members to more than 200 chapters with 20,000+ members. As an educator, Kate has worked with a wide range of age groups for over 15 years. She taught Women's Studies, Literature, and Creative Writing at UC Santa Cruz, San Jose State, Rhode Island College, and Brown University. And she is the former Chair of the School of Literary Arts at Oakland School for the Arts, where she taught fiction, poetry, and journalism to 9th-12th graders for many years. Kate received her MFA in Fiction from Brown University, and a double BA in Women's Studies/Creative Writing from UC Santa Cruz. She lives with her family on the island of Alameda.