---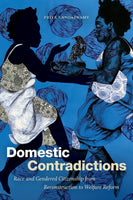 by Priya Kandaswamy
Duke University Press
8/20/2021, paperback
SKU: 9781478014317
In Domestic Contradictions, Priya Kandaswamy analyzes how race, class, gender, and sexuality shaped welfare practices in the United States alongside the conflicting demands that this system imposed upon Black women.
She turns to an often-neglected moment in welfare history, the advent of the Freedmen's Bureau during Reconstruction, and highlights important parallels with welfare reform in the late twentieth century. Kandaswamy demonstrates continuity between the figures of the "vagrant" and "welfare queen" in these time periods, both of which targeted Black women. These constructs upheld gendered constructions of domesticity while defining Black women's citizenship in terms of an obligation to work rather than a right to public resources.
Pushing back against this history, Kandaswamy illustrates how the Black female body came to represent a series of interconnected dangers - to white citizenship, heteropatriarchy, and capitalist ideals of productivity - and how a desire to curb these threats drove state policy.
In challenging dominant feminist historiographies, Kandaswamy builds on Black feminist and queer of color critiques to situate the gendered afterlife of slavery as central to the historical development of the welfare state.
Reviews:
"Domestic Contradictions is remarkably original in its historiographic perspective and structure. Rather than offering a 'long history' of race, gender, and welfare, Priya Kandaswamy boldly juxtaposes two key moments in welfare-state history and, in so doing, is able to successfully demonstrate the haunting of Reconstruction's violent limitations in the late twentieth century. Sharp and innovative, this will be an influential work in gender theory and gender history. Indeed, Kandaswamy's impact on feminist scholarship and public debates will be very significant." -- Sarah Haley, author of No Mercy Here: Gender, Punishment, and the Making of Jim Crow Modernity
"Priya Kandaswamy brings to light the struggles of African American women to navigate the competing and contradictory demands placed upon them after emancipation. By linking the question of state assistance in the aftermath of the Civil War to the contemporary welfare debate, Kandaswamy enables readers to see the endurance of anti-Black racism and heteronormativity as well as how state power operates to enforce labor discipline and maintain social stratification. The parallels between these two time periods are eye-opening." -- Premilla Nadasen, author of Household Workers Unite: The Untold Story of African American Women Who Built a Movement
About the Author:
Priya Kandaswamy is Professor of Women, Gender, and Sexuality Studies at Mills College.