---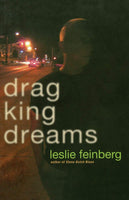 by Leslie Feinberg
Seal Press
3/22/2006, paperback
SKU: 9780786717637
From award-winning and best-selling author, Leslie Feinberg, comes Drag King Dreams, the story of Max Rabinowitz, a butch lesbian bartender at an East Village club where drag kings, dykes dressed as men, perform.
A veteran of the women's and gay movement of the past 30 years, Max's mid-life crisis hits in the midst of the post-9/11 world. Max is lonely and uncertain about her future -- fearful, in fact, of America's future with its War on Terror and War in Iraq -- with only a core group of friends to turn to for reassurance. Max is shaken from her crisis, however, by the news that her friend Vickie, a transvestite, has been found murdered on her way home late one night. As the community of cross-dressers, drag queens, lesbian and gay men, and "genderqueers" of all kinds stand up together in the face of this tragedy, Max taps into the activist spirit she thought had long disappeared and for the first time in years discovers hope for her future.
About the Author:
Leslie Feinberg is author of Transgender Warriors and the underground classic Stone Butch Blues. One of Curve magazine's fifteen most influential in the battle for gay and lesbian rights, s/he is also winner of the ALA Gay and Lesbian Literature Award, the Lambda Literary Award, and the Firecracker Alternative Book Award for nonfiction.