---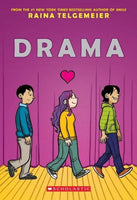 by Raina Telgemeier
Graphix
12/7/2021, paperback
SKU: 9781338801897
Callie loves theater. And while she would totally try out for her middle school's production of Moon over Mississippi, she can't really sing. Instead she's the set designer for the drama department's stage crew, and this year she's determined to create a set worthy of Broadway on a middle-school budget. But how can she, when she doesn't know much about carpentry, ticket sales are down, and the crew members are having trouble working together? Not to mention the onstage AND offstage drama that occurs once the actors are chosen. And when two cute brothers enter the picture, things get even crazier!
Raina Telgemeier once again brings us a funny and charming exploration of friendship, crushes, and all-around drama!
Target age: 10 to 14
Reviews:
"Another dead-on look at the confusing world of middle school." -- Publishers Weekly, starred review
"With the clear, stylish art, the strongly appealing characters and just the right pinch of drama, this book will undoubtedly make readers stand up and cheer. Brava!" -- Kirkus Reviews, starred review
About the Author:
Raina Telgemeier is the #1 New York Times bestselling, multiple Eisner Award-winning creator of Smile, Sisters, and Guts, which are all graphic memoirs based on her childhood. She is also the creator of Drama and Ghosts, and is the adapter and illustrator of the first four Baby-sitters Club graphic novels. Raina lives in the San Francisco Bay Area.