---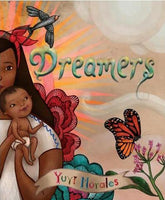 by Yuyi Morales
Neal Porter Books
9/4/2018, hardcover
SKU: 9780823440559
Caldecott Honor artist and five-time Pura Belpré Award winner, Yuyi Morales, tells her own immigration story in this picture-book tribute to the transformative power of hope . . . and reading. 
In 1994, Yuyi Morales left her home in Xalapa, Mexico and came to the US with her infant son. She left behind nearly everything she owned, but she didn't come empty-handed. 
She brought her strength, her work, her passion, her hopes and dreams...and her stories. Morales's gorgeous new picture book Dreamers is about making a home in a new place. Yuyi and her son Kelly's passage was not easy, and Yuyi spoke no English whatsoever at the time. But together, they found an unexpected, unbelievable place: the public library. There, book by book, they untangled the language of this strange new land, and learned to make their home within it. 
Dreamers is a celebration of what migrantes bring with them when they leave their homes. It's a story about family. And it's a story to remind us that we are all dreamers, bringing our own gifts wherever we roam. Beautiful and powerful at any time but given particular urgency as the status of our own Dreamers become uncertain, this is a story that is both topical and timeless. 
The lyrical text is complemented by sumptuously detailed illustrations, rich in symbolism. Also included are a brief autobiographical essay about Yuyi's own experience, a list of books that inspired her (and still do), and a description of the beautiful images, textures, and mementos she used to create this book.
Target age: 4-7