---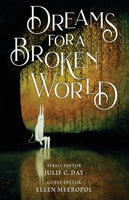 Edited by Julie C. Day and Ellen Meeropol
Reckoning Press
11/1/2022, paperback
SKU: 9781955360050
Patron saints and luchadores. Trickster gods. Freedom fighters. Infections of fire. Gated communities and glass castles. Hong Kong. Iran. NYC. The 1860s and the end of the world. The stories in this anthology reflect the authors' varied creative interests along with their multitudinous backgrounds and experiences.
What does it mean to live in a fragmented and uncertain world? How do we find a better way forward? The anthology Dreams for a Broken World draws from both genre and literary traditions in attempt to answer these questions. Included here are original stories and reprints. The mix of genres, from literary to fantastical, from dark to playful, from speculative to activist, offers perspectives that are varied, imaginative, thoughtful, and provocative. 
The 24 contributors include such award-winning authors as Ava Homa, Aimee Liu, Usman T. Malik, Nisi Shawl, Sheree Renée Thomas, Vandana Singh, Andrew Altschul, Joy Baglio, Innocent Chizarama Ilo, Breena Clarke, Zig Zag Claybourne, Tina Egnoski, Cai Emmons, JoeAnn Hart, Céline Keating, Jan Maher, Benjamin Parzybok, Charles Payseur, Robert V.S. Redick, Veronica Schanoes, Lisa Taylor, Marie Vibbert, Cynthia Young, and Sabrina Vourvoulias.
Can stories change the world? Not alone. But as poet Martín Espada wrote, "Any oppressive social condition, before it can be changed, must be named and condemned in words that persuade by stirring the emotions, awakening the senses."
Naming. Condemning. Stirring. Awakening. That's what we hope these stories will do for all of us.
Dreams for a Broken World is the second charity anthology in the Dreams series published by Essential Dreams Press, an imprint of Reckoning Press; charity means that all the proceeds from sales are donated to a non-profit doing work to fix our broken world.
Ellen Meeropol joins series editor Julie C. Day as guest editor of this second book in the Dreams series, a fundraiser for the Rosenberg Fund for Children. The RFC is a non-profit, public foundations that aids children in the U.S. whose parents are targeted, progressive activists. They also assist youth who themselves have been targeted as a result of their progressive activities.
Reviews:
"This anthology offers seriously admirable work. Highly recommended." -Arley Sorg, Lightspeed Magazine
"24 impressive stories of healing and rebuilding...These stories offer something for any speculative fiction reader." -Publishers Weekly
"Some of these stories explore a world that is fully broken, others are focused on when it just begins to crack. But what's clear above all is that the world breaks for some groups of people much earlier than others. An inclusive and adept anthology in which each story is a facet for a different perspective on where we've gone-or will go-wrong." -Brian Evenson
"A thoughtful, diverse collection hewing closely to the themes of connection and devotion-tender reunions, heartbreaking partings, misplaced loyalty, friendship, romance, parenthood, these character-focused stories have it all." -Premee Mohamed