---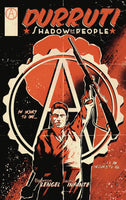 by Brenton Lengel, illustrated by Jaime Infante
Autonomous Collective
10/18/2022, full-color booklet
SKU: n/a
Durruti: Shadow of the People is the very first issue of a brand-new mini-series about the life and death of blacksmith, anarchist, and Spanish revolutionary Buenaventura Durruti—one of the most fascinating figures in human history.
Writer/Creator Brenton Lengel has studied his life and the Spanish Civil War in depth for over a decade and has penned a feature-length biopic/war epic which was called "possibly one of the most beautifully written scripts on the site" by blcklst.com.
"You must not forget that we can also build. It is we the workers who built the cities and the palaces—here in Spain and America, and everywhere! We can do it again! Better than before! The bourgeoisie might blast its own world to ruin before it leaves the stage of history…We carry a new world, here, in our hearts. That world is growing in this minute." —Buenaventura Durruti (July 14, 1896–November 20, 1936)
About the Author:
Brenton Christopher Lengel is a screenwriter, playwright and Ringo Award-nominated comic creator who found his artistic voice along the windswept peaks of the northern Appalachians. Shortly thereafter cutting his literary teeth in the NYC underground. His body of work is broad-based and eclectic but he is best known for "North to Maine," the first play ever written about the Appalachian trail, his Ringo Award-nominated comic series "Snow White Zombie Apocalypse," and "Afterall," his urban fantasy collaboration with Rogue, lead singer of the chart-topping goth/electropop band The Crüxshadows.
Jaime Infante is a comic book artist based in Madrid, Spain.