---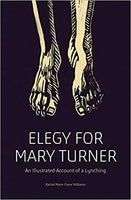 by Rachel Marie-Crane Williams
Verso
3/16/2021, paperback
SKU:  9781788739047
A lyrical and haunting depiction of American racial violence and lynching, evoked through stunning full-color artwork.
In late May 1918 in Valdosta, Georgia, ten Black men and one Black woman--Mary Turner, eight months pregnant at the time--were lynched and tortured by mobs of white citizens.Through hauntingly detailed full-color artwork and collage, Elegy for Mary Turner names those who were killed, identifies the killers, and evokes a landscape in which the NAACP investigated the crimes when the state would not and a time when white citizens baked pies and flocked to see Black corpses while Black people fought to make their lives--and their mourning--matter.
Included are contributions from C. Tyrone Forehand, great-grandnephew of Mary and Hayes Turner, whose family has long campaigned for the deaths to be remembered; abolitionist activist and educator Mariame Kaba, reflecting on the violence visited on Black women's bodies; and historian Julie Buckner Armstrong, who opens a window onto the broader scale of lynching's terror in American history.
Reviews:
"In this particular historical moment when young Black people are engaged in a renewed struggle against state violence, Mary Turner's story resonates. She insists that we #SayHerName too." --Mariame Kaba, founder and director of Project NIA, from the introduction
"Retells the story [of Mary Turner's murder] in a manner at once unflinching, and, at turns, delicate. The delicacy is owed to Williams' rendering." --Rosalind Bentley, Atlanta Journal-Constitution
About the Author:
Rachel Marie-Crane Williams is an artist and teacher, currently an Associate Professor at the University of Iowa in Art and Gender, Women's, and Sexuality Studies. Her work as a researcher and creative scholar has always been focused on women's issues, community, art, and people who are incarcerated. She has worked with incarcerated women since 1994. Her scholarship--both graphic and textual--has been published by the Jane Addams Hull House Museum, The Journal of Cultural Research in Art Education, and The International Journal of Comic Art, The Journal of Correctional Education, The Journal of Arts Management, Law, and Society, The Journal of Art Education, and Visual Arts Research.