---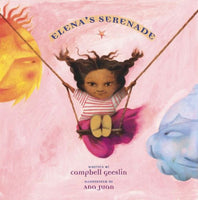 by Campbell Geeslin
Atheneum
2004
SKU: 9780689849084
Who ever heard of a girl glassblower?

In Mexico, where the sun is called el sol and the moon is called la luna, a little girl called Elena wants to blow into a long pipe...and make bottles appear, like magic.

But girls can't be glassblowers. Or can they?

Join Elena on her fantastic journey to Monterrey -- home of the great glassblowers! -- in an enchanting story filled with magic realism.
Who ever heard of a girl glassblower?
In Mexico, where the sun is called el sol and the moon is called la luna, a little girl called Elena wants to blow into a long pipe...and make bottles appear, like magic.
But girls can't be glassblowers. Or can they?
Join Elena on her fantastic journey to Monterrey -- home of the great glassblowers! -- in an enchanting story filled with magic realism. - See more at: http://books.simonandschuster.com/Elenas-Serenade/Campbell-Geeslin/9780689849084#sthash.1YlajZUA.dpuf
Who ever heard of a girl glassblower?
In Mexico, where the sun is called el sol and the moon is called la luna, a little girl called Elena wants to blow into a long pipe...and make bottles appear, like magic.
But girls can't be glassblowers. Or can they?
Join Elena on her fantastic journey to Monterrey -- home of the great glassblowers! -- in an enchanting story filled with magic realism. - See more at: http://books.simonandschuster.com/Elenas-Serenade/Campbell-Geeslin/9780689849084#sthash.1YlajZUA.dpuf
Who ever heard of a girl glassblower?
In Mexico, where the sun is called el sol and the moon is called la luna, a little girl called Elena wants to blow into a long pipe...and make bottles appear, like magic.
But girls can't be glassblowers. Or can they?
Join Elena on her fantastic journey to Monterrey -- home of the great glassblowers! -- in an enchanting story filled with magic realism. - See more at: http://books.simonandschuster.com/Elenas-Serenade/Campbell-Geeslin/9780689849084#sthash.1YlajZUA.dpuf
Who ever heard of a girl glassblower?
In Mexico, where the sun is called el sol and the moon is called la luna, a little girl called Elena wants to blow into a long pipe...and make bottles appear, like magic.
But girls can't be glassblowers. Or can they?
Join Elena on her fantastic journey to Monterrey -- home of the great glassblowers! -- in an enchanting story filled with magic realism. - See more at: http://books.simonandschuster.com/Elenas-Serenade/Campbell-Geeslin/9780689849084#sthash.1YlajZUA.dpuf