---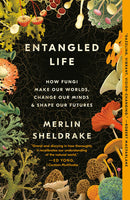 by Merlin Sheldrake
Random House Trade
4/13/2021, paperback
SKU: 9780525510321
When we think of fungi, we likely think of mushrooms. But mushrooms are only fruiting bodies, analogous to apples on a tree. Most fungi live out of sight, yet make up a massively diverse kingdom of organisms that supports and sustains nearly all living systems. Fungi provide a key to understanding the planet on which we live, and the ways we think, feel, and behave.
In Entangled Life, the brilliant young biologist Merlin Sheldrake shows us the world from a fungal point of view, providing an exhilarating change of perspective. Sheldrake's vivid exploration takes us from yeast to psychedelics, to the fungi that range for miles underground and are the largest organisms on the planet, to those that link plants together in complex networks known as the "Wood Wide Web," to those that infiltrate and manipulate insect bodies with devastating precision.
Fungi throw our concepts of individuality and even intelligence into question. They are metabolic masters, earth makers, and key players in most of life's processes. They can change our minds, heal our bodies, and even help us remediate environmental disaster. By examining fungi on their own terms, Sheldrake reveals how these extraordinary organisms--and our relationships with them--are changing our understanding of how life works.
Reviews:
"Reading this book, I felt surrounded by a web of wonder. The natural world is more fantastic than any fantasy, so long as you have the means to perceive it. This book provides the means." --Jaron Lanier, author of You Are Not a Gadget
"Fungi are everywhere, and Merlin Sheldrake is an ideal guide to their mysteries. He's passionate, deeply knowledgeable, and a wonderful writer." --Elizabeth Kolbert, author of The Sixth Extinction
About the Author:
Merlin Sheldrake is a biologist and a writer. He received a Ph.D. in tropical ecology from the University of Cambridge for his work on underground fungal networks in tropical forests in Panama, where he was a predoctoral research fellow of the Smithsonian Tropical Research Institute. He is a musician and keen fermenter. Entangled Life is his first book.