---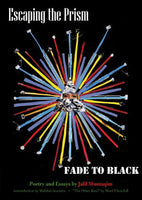 by Jalil Muntaqim
Kersplebedeb
2015, paperback
SKU: 9781894946629
Jalil Muntaqim is a former member of the Black Panther Party and the Black Liberation Army. For over forty years, Jalil has been a political prisoner, and one of the New York Three (NY3), in retaliation for his political activism. Jalil is currently incarcerated in Attica, NY and has been denied parole multiple times due to the "serious nature of the crime", a catch-all phrase that has been used repeatedly in New York state to deny parole to political prisoners. To learn more about Jalil's case, as well as those of other U.S. political prisoners, check out www.freejalil.com and www.thejerichomovement.com.
Escaping the Prism … Fade to Black is a collection of Jalil's poetry and essays, written from behind the bars of Attica prison. Combining the personal and the political, these texts afford readers with a rare opportunity to get to know a man who has spent most of his life — over forty years –- behind bars for his involvement in the Black Liberation Movement of the 1960s and early 1970s.
Jalil's poetry deals with a range of themes — spirituality, history, and the struggle for justice; depression, humor, and sexual desire; the pain and loneliness of imprisonment, the ongoing racist oppression of New Afrikan people in the United States, and the need to find meaning in one's life. At the same time, his political essays show him to be as eager as ever to intervene in and grapple with the events of today, always with an eye to concretely improving the lives of the oppressed.
As Walidah Imarisha states in her introduction, "This collection is not just about rebuke, but a commitment to living fully and loving completely. To exploring all aspects of humanity, all pieces that make up liberation … Escaping the Prism defies the attempts of the state to silence political prisoners, to disconnect them from those on the ground working to create change. In the context of the international Black Lives Matter movement, this roar for justice led by Black youth, Jalil's poetic voice, and the voices of all our political prisoners, are vitally necessary to continue the continuity of Black resistance."
Escaping the Prism … Fade to Black also includes an extensive examination of the U.S. government's war against the Black Liberation Army in general, and Jalil and the New York Three in particular, by renowned scholar-activist Ward Churchill. In "The Other Kind: On the Integrity, Consistency, and Humanity of Jalil Abdul Muntaqim," Churchill traces this story from the FBI's murderous COINTELPRO repression of the Black Panther Party, through the NEWKILL operation which led to the NY3's incarceration, to the more recent Phoenix Taskforce which orchestrated the re-prosecution of Jalil and other veteran Black activists, in the case of the San Francisco 8.
With illustrations by revolutionary prisoner-artists Zolo Agona Azania and Kevin "Rashid" Johnson, as well as outside artist-activists Bec Young, Pete Railand, Rocky Dobey, and the We are the Crisis collective.
Reviews:
"Jalil Muntaqim's prose and poetry analyze life within 'America as prison.' Decades of sacrifice and resistance allow him to critique state oppression and social acquiescence. We are reminded here of democracy's capacity for repression and terror through police, courts, and captivity; and the mystification and near disappearance of political prisoners who resisted such as Muntaqim, who writes that his name is spoken either as taboo or in reverence. Aided by Ward Churchill's invaluable afterword, we can remember the historical and ongoing wars against dissent, and the brutal punishments activists risked in order to expand freedom. In the current debates about racism, legal duplicity and lethal violence, Escaping the Prism instructs that in our love for freedom, 'let the spirit guide us.'" - Joy James, Seeking the 'Beloved Community'
"When soldiers of a nation-state return home from war, they are thanked for their service. When they die in battle, they are honored posthumously. But there are no medals for an army of slaves. Escaping the Prism… Fade to Black is a stunning anthology of rare and tender love poems, unflinching struggle poems, and requiem poetry for a people whose personhood is denied. Muntaqim's poems as well as the political vignettes and biographical sketches contained herein should be required reading for students who wonder why the world is on tilt. For forty-three years as a prisoner of war (nearly twice as long as Mandela who was released after 27 years), BLA soldier Jalil Muntaqim has nurtured us with his pedagogy and his poetry. Thank you for your service." - Frank B. Wilderson III, author of Incognegro: A Memoir of Exile and Apartheid
"In his powerful new book of poetry, Jalil Muntaqim writes, "my poetry is my life."  He also writes, "My poetry has a chip on its shoulder," as well it might given the decades he has spent living in the state's cages. Yet despite his lifelong sacrifice as a political prisoner and prisoner of war, this book is proof that Jalil's deepest thoughts are rich and his commitment to liberation remains as strong as ever.  The poems in Escaping the Prism… Fade to Black reveal Jalil's deep determination and love, and will no doubt serve as a source of inspiration for us all." - Claude Marks, Director of the Freedom Archives and former political prisoner
"Jalil Muntaqim is known for his letters and petitions and essays. Now, for the first time, we have a collection of his poetry. The poems are analytical and tender, inspiring and angering, nostalgic and sobering. In Escaping the Prism, Jalil meditates on life, love, struggle, music, and everything else that prisons contain but fail to crush." - Dan Berger, author of Captive Nation: Black Prison Organizing in the Civil Rights Era
"Jalil's poems are codified in the art of resistance. His poems have taught me that resistance is not futile, and that revolution begins with the word. In those moments when Jalil felt his poems were un-observed, I gleaned that a well-turned phrase was more powerful than a well-oiled militia."- Michael Rhynes, author of Guerillas in the Mist and other poems
Be sure to check out the other titles from our friends at Kersplebedeb.