---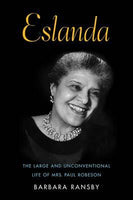 by Barbara Ransby
Yale Press
2013
SKU: 9780300124347
Eslanda "Essie" Cardozo Goode Robeson lived a colorful and amazing life. Her career and commitments took her many places: colonial Africa in 1936, the front lines of the Spanish Civil War, the founding meeting of the United Nations, Nazi-occupied Berlin, Stalin's Russia, and China two months after Mao's revolution. She was a woman of unusual accomplishment-an anthropologist, a prolific journalist, a tireless advocate of women's rights, an outspoken anti-colonial and antiracist activist, and an internationally sought-after speaker. Yet historians for the most part have confined Essie to the role of Mrs. Paul Robeson, a wife hidden in the large shadow cast by her famous husband. In this masterful book, biographer Barbara Ransby refocuses attention on Essie, one of the most important and fascinating black women of the twentieth century.
Chronicling Essie's eventful life, the book explores her influence on her husband's early career and how she later achieved her own unique political voice. Essie's friendships with a host of literary icons and world leaders, her renown as a fierce defender of justice, her defiant testimony before Senator Joseph McCarthy's infamous anti-communist committee, and her unconventional open marriage that endured for over 40 years-all are brought to light in the pages of this inspiring biography. Essie's indomitable personality shines through, as do her contributions to United States and twentieth-century world history.
Barbara Ransby is professor in the departments of African American Studies, Gender and Women Studies, and History, and director of the Gender and Women Studies Program, University of Illinois, Chicago. She is author of the award-winning Ella Baker and the Black Freedom Movement, and a respected scholar-activist for many years.