---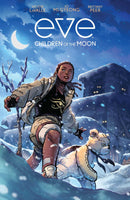 by Victor Lavelle, Illustrated by Jo Mi-Gyeong
Boom! Studios
8/1/2023, paperback
SKU: 9781684159048
The long-awaited return of the Afrofuturist, coming-of-age adventure, perfect for first-time fans!
Eve saved the world once already, embarking on a perilous quest to protect what remained of humanity after a deadly virus outbreak... but the story continues! Selene, a source of hope for the many children that flocked to her rest stop, resents Eve, Eve's sister, and Wexler. The conflict amongst them and the survivors is dire... even sowing the potential for civil war. But an A.I. with terrifying origins from deep beneath the sea brings new revelations about the threats they face... not only of earth, but beyond. Eve and her companions face new challenges and a darkness from their past, in this exciting sequel series from award-winning author and lauded professor Victor LaValle and returning Eve artist Jo Mi-Gyeong. Collects Eve: Children of the Moon #1-5.
Target age: 14 and up
About the Author:
Victor LaValle is the author of a short-story collection, Slapboxing with Jesus, four novels, The Ecstatic, Big Machine, The Devil in Silver & The Changeling, and two novellas, Lucretia and the Kroons and The Ballad of Black Tom.
Jo Mi-Gyeong is the artist of Eve, The Dark Crystal, and Beastlands.