---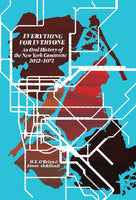 by M.E, O'Brien & Eman Abdelhadi
Common Notions
08/02/2022, paperback
SKU: 9781942173588
By the middle of the twenty-first century, war, famine, economic collapse, and climate catastrophe had toppled the world's governments. In the 2050s, the insurrections reached the nerve center of global capitalism--New York City. This book, a collection of interviews with the people who made the revolution, was published to mark the twentieth anniversary of the New York Commune, a radically new social order forged in the ashes of capitalist collapse.
Here is the insurrection in the words of the people who made it, a cast as diverse as the city itself. Nurses, sex workers, antifascist militants, and survivors of all stripes recall the collapse of life as they knew it and the emergence of a collective alternative. Their stories, delivered in deeply human fashion, together outline how ordinary people's efforts to survive in the face of crisis contain the seeds of a new world.
Reviews:
"Every socialist needs to read this book. Every abolitionist, every Marxist, every anarchist, every revolutionary needs to read this book. Every person who has ever wondered how the world will function after the final retirement of the market, the commodity form, money, wages, rent, coercive gender roles, prisons, police, class, nation states, borders, profit, and in general the dominating power of any humans over any others... It's a book that will engage seasoned organizers, well-read academics, and street-level agitators. It also could serve quite well as a dazzling introduction for newly politicizing folks who would benefit from a clear end-goal and would want to know what could be accomplished by the movements for human liberation." -- Spectre Journal
"[ Everything for Everyone] challenges us to not just write fiction about revolution but to make books that practice the kinds of collaboration necessary to make revolution... This book is an uncompromising, anticolonial, profoundly queer and trans, buoying, addictive, and wholly original creation... Everything for Everyone has no patience with docile truisms about how we are supposed to write. Instead, it's a shot across the bow for contemporary fiction, raising the bar on how to crystallize utopian longings in literary form." -- BOMB Magazine
"But if you come to Everything for Everyone for the politics, stay for the writing. Barring Vladimir Nabokov in Pale Fire, I can't think of another author who uses an academic form to achieve a literary result so successfully. Each of the interviewees and interviewers has an entirely unique and authentic voice. The book is utterly plausible as the archival project it claims to be, while also telling gripping stories and slipping in details to delight sci-fi fans (a space elevator in Quito! Sentient algae-based AI! Augmented reality implants for dance parties!)." -- TruthOut
About the Authors:
M. E. O'Brien writes at the intersection of communist theory, trans liberation, LGBTQ social-movement studies, and feminism. A co-editor of Pinko, a magazine of gay communism, O'Brien's writing has appeared in Social Movement Studies, Work, Employment & Society, Commune, Homintern, Endnotes, and Invert. She worked with the NYC Trans Oral History Project and completed her PhD at NYU where her research considered how capitalism shaped NYC LGBTQ social movements. She currently works as a psychotherapist.
Eman Abdelhadi is an academic, activist, and artist based in Chicago, IL. Her research as faculty at the University of Chicago focuses on gender differences in the community trajectories of Muslim Americans. Abdelhadi has also spent many years organizing. She has been involved in the movement for Palestinian liberation, Black Lives Matter, counter-surveillance and abolitionism, marxist feminist mobilization as well as workplace struggles. She is currently co-coordinating the Muslim Alliance for Gender and Sexual Diversity, a national organization that provides support and builds community by and for Queer Muslims. Abdelhadi maintains an active creative practice that includes performance art and essay and poetry writing. Her writing has appeared in Jacobin, Muftah, and other publications.