---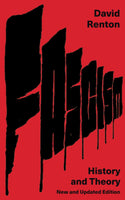 by David Renton
Pluto Press (UK)
9/20/2020, paperback
SKU: 9780745341200
Across Europe and the world, far right parties have been enjoying greater electoral success than at any time since 1945. Right-wing street movements draw huge supporters and terrorist attacks on Jews and Muslims proliferate. It sometimes seems we are returning to the age of fascism.
To explain this disturbing trend, David Renton surveys the history of fascism in Europe from its pre-war origins to the present day, examining Marxist responses to fascism in the age of Hitler and Mussolini, the writings of Trotsky and Gramsci and contemporary theorists. Renton theorizes that fascism was driven by the chaotic and unstable balance between reactionary ambitions and the mass character of its support. This approach will arm a new generation of anti-fascists to resist those who seek to re-enact fascism.
Rewritten and revised for the twentieth anniversary of its first publication, Renton's classic book synthesizes the Marxist theory of fascism and updates it for our own times.
Reviews:
'An invaluable book showing us again why and how Marxists have been the best interpreters and fighters against fascism. Renton's updates make this even more urgent reading for taking on the return of fascist ideas in our time'--Bill V. Mullen, author of 'James Baldwin: Living in Fire'
'David Renton's thoughtful and open-minded study shines a light on this often misunderstood political current and contains vital lessons for anti-fascists today'--Daniel Trilling, author of 'Lights in the Distance: Exile and Refuge at the Borders of Europe'

About the Author:
David Renton is a barrister, historian and anti-fascist activist. His previous books include Never Again: Rock Against Racism and the Anti-Nazi League and The New Authoritarians.