---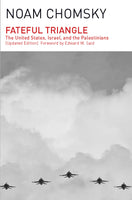 by Noam Chomsky
Haymarket Books
2/17/2015, paperback
SKU: 9781608463992
Fateful Triangle is Noam Chomsky's seminal work on Mideast politics. In the updated edition of this classic book, with a new introduction by Chomsky, readers seeking to understand the Middle East and U.S. foreign policy today will find an invaluable tool.
Reviews:
A devastating collection of charges aimed at Israeli and American policies that affect the Palestinian Arabs negatively." --Library Journal
A major, timely and devastating analysis of one of the great tragedies." --Fred Halliday, Tribune
About the Author:
Noam Chomsky is Institute Professor in the Department of Linguistics and Philosophy at the Massachusetts Institute of Technology, Boston. A member of the American Academy of Science, he has published widely in both linguistics and current affairs. His books include At War with Asia, Towards a New Cold War, Fateful Triangle: The U. S., Israel and the Palestinians, Necessary Illusions, Hegemony or Survival, Deterring Democracy, Failed States: The Abuse of Power and the Assault on Democracy and Manufacturing Consent: The Political Economy of the Mass Media.