---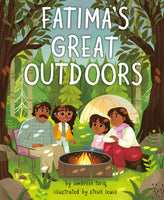 by Ambreen Tariq, Illustrated by Stevie Lewis
Kokila
3/30/2021, hardcover
SKU:  9781984816955
An immigrant family embarks on their first camping trip in the Midwest in this lively picture book by Ambreen Tariq, outdoors activist and founder of @BrownPeopleCamping

Fatima Khazi is excited for the weekend. Her family is headed to a local state park for their first camping trip! The school week might not have gone as planned, but outdoors, Fatima can achieve anything. She sets up a tent with her father, builds a fire with her mother, and survives an eight-legged mutant spider (a daddy longlegs with an impressive shadow) with her sister. At the end of an adventurous day, the family snuggles inside one big tent, serenaded by the sounds of the forest. The thought of leaving the magic of the outdoors tugs at Fatima's heart, but her sister reminds her that they can keep the memory alive through stories--and they can always daydream about what their next camping trip will look like.

Ambreen Tariq's picture book debut, with cheerful illustrations by Stevie Lewis, is a rollicking family adventure, a love letter to the outdoors, and a reminder that public land belongs to all of us.
Reviews:
An authentic, affectionate portrait of how outdoor spaces can offer a saving grace and a sense of belonging. -- Publishers Weekly
Most collections will benefit from this multilayered work of joy and validation.
--Ariana Sani Hussain, The Blake School, Wayzata, MN, for School Library Journal
About the Contributors:
Ambreen Tariq is the founder of @BrownPeopleCamping, a social media platform dedicated to promoting greater diversity in our public lands through storytelling and the power of visual representation. She's passionate about youth education and holds board member positions at City Kids Wilderness Project and Green Muslims. She is currently a brand ambassador for many well-known outdoors companies. Her writing has been published in Outside magazine, and Ambreen has been profiled by the New York Times, SELF magazine, CNN Health, Elite Daily, and more. A non-practicing attorney, Ambreen works for the federal government in Washington, DC. This is her first book for children.
Stevie Lewis lives on the road in a van that she mostly built out herself. Striving to live simply and tread lightly on the earth, she gathers inspiration from a variety of places, and she enjoys rock climbing, hiking, and mountain biking. After working for several years at DreamWorks Animation, she now illustrates children's books and creates art based on her travels.