---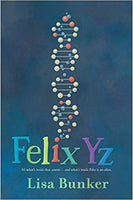 by Lisa Bunker
Puffin Books
6/5/2018, paperback
SKU: 9780425288511
"If it wasn't for the fused-with-Zyx thing, I suppose I would just be normal--whatever that means."
When Felix Yz was three years old, a hyper intelligent fourth-dimensional being became fused inside him after one of his father's science experiments went terribly wrong. The creature is friendly, but Felix--now thirteen--won't be able to grow to adulthood while they're still melded together. So a risky Procedure is planned to separate them... but it may end up killing them both instead.
This book is Felix's secret blog, a chronicle of the days leading up to the Procedure. Some days it's business as usual--time with his close-knit family, run-ins with a bully at school, anxiety about his crush. But life becomes more out of the ordinary with the arrival of an Estonian chess Grand master, the revelation of family secrets, and a train-hopping journey. When it all might be over in a few days, what matters most?
Told in an unforgettable voice full of heart and humor, Felix Yz is a groundbreaking story about how we are all separate, but all connected too.

Target age group: 10 to 13
Reviews:
"Lisa Bunker's clever science fiction debut is heartwarming and witty. Felix's looming high-stakes procedure creates a sense of suspense, while the push and pull between Felix and his alien guest incubates humor, compassion and ingenuity... The marvelously diverse cast of Felix Yz is certain to charm audiences and leave them eagerly anticipating what Bunker will deliver next." -- Shelf Awareness
"Acutely perceptive, disarmingly witty, devastatingly honest, and utterly captivating. Joyful, heartbreaking, completely bonkers, and exuberantly alive." -- Kirkus Reviews
About the Author:
Lisa Bunker
recently left a thirty-year career in public and community broadcasting to write full-time. She lives in Exeter, New Hampshire, and does not play chess as well as she would like, but still plays anyway.