---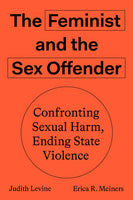 by Judith Levine and Erica R. Meiners
Verso Books
4/23/2020, paperback
SKU: 9781788733403
In the era of #MeToo and mass incarceration, The Feminist and the Sex Offender makes a powerful feminist case for accountability without punishment and sexual safety and pleasure without injustice.
With analytical clarity and narrative force, The Feminist and the Sex Offender contends with two problems that are typically siloed in the era of #MeToo and mass incarceration: sexual and gender violence, on the one hand, and the state's unjust, ineffective, and soul-destroying response to it on the other. Is it possible to confront the culture of abuse? Is it possible to hold harm-doers accountable without recourse to a criminal justice system that redoubles injuries, fails survivors, and retrenches the conditions that made such abuse possible?
Drawing on interviews, extensive research, reportage, and history, The Feminist and the Sex Offender develops an intersectional feminist approach to ending sexual violence. It maps with considerable detail the unjust sex offender regime while highlighting the alternatives we urgently need.
Reviews:
"Pulls back the curtain on the history of the sex offender registry, its roots and its injustices, and how we can strive for a future with neither sexual harm nor state violence." --Lyra Walsh Fuchs Dissent
"Levine and Meiners show how the contingent now called 'carceral' feminists (from the same root as incarcerate), spurred by rage and an eagerness for retribution--and by the exhilaration of 'at last we're getting the bastards'--has played a large role in expanding the prison industrial complex, along with that cruel sex offender registry, precisely at the time that other feminists and civil rights activists are trying to rein it in." --Dr. Carol Tavris, Skeptic
About the Author:
Judith Levine is a longtime journalist and author of countless articles and commentaries in popular media -Village Voice, New York Times, Harper's, Boston Review, N+1, and others-as well as four books. Minors: The Perils of Protecting Children From Sex won the LA Times Book Award.
Erica Meiners is a professor of education and women's and gender studies at Northeastern Illinois University and the author of several books, most recently For the Children? Protecting Innocence in a Carceral State.