---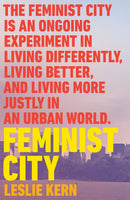 by Leslie Kern

Verso Press
09/14/2021, paperback

SKU: 9781788739825
Feminist City is an ongoing experiment in living differently, living better, and living more justly in an urban world.
We live in the city of men. Our public spaces are not designed for female bodies. There is little consideration for women as mothers, workers or carers. The urban streets often are a place of threats rather than community. Gentrification has made the everyday lives of women even more difficult. What would a metropolis for working women look like? A city of friendships beyond Sex and the City. A transit system that accommodates mothers with strollers on the school run. A public space with enough toilets. A place where women can walk without harassment.
In Feminist City, through history, personal experience and popular culture Leslie Kern exposes what is hidden in plain sight: the social inequalities built into our cities, homes, and neighborhoods. Kern offers an alternative vision of the feminist city. Taking on fear, motherhood, friendship, activism, and the joys and perils of being alone, Kern maps the city from new vantage points, laying out an intersectional feminist approach to urban histories and proposes that the city is perhaps also our best hope for shaping a new urban future. It is time to dismantle what we take for granted about cities and to ask how we can build more just, sustainable, and women-friendly cities together.
Reviews:
"[An] insightful scholarly work ... This provocative analysis will resonate with theoretically minded feminists." -- Publishers Weekly
"Visionary, intelligent, and humane, this book offers intersectional insights into the gendered nature of the modern city to promote 'living more justly in an urban world'... A timely, thought-provoking study." -- Kirkus Reviews
"Charting the physical aspects of the city that work against women, from inefficient public transport to a lack of supportive care networks for working mothers, Kern argues that there are ways to transform the city that would advance the liberation of women and marginalized people... Kern's analysis seems especially timely as we debate the role of police in our society and how we can better protect marginalized people." -- Nicole Froio, Bitch Media
"Kern resists drawing a blueprint for a new master-planned feminist city. Instead, she believes we ought to take a closer look at how cities perpetuate inequality from the perspective of race, gender, ability, and class." -- Diana Budds, Curbed
About the Author:

Leslie Kern is an associate professor of geography and environment and director of women's and gender studies at Mount Allison University. She is the author of Sex and the Revitalized City: Gender, Condominium Development, and Urban Citizenship.