---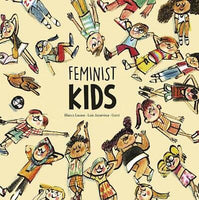 by Luis Amavisca and Blanca Lacasa, Illustrated by Gusti
Nubeocho
10/25/2022, hardcover
SKU: 9788418599859
What does it mean to be a feminist? Through everyday situations, the girls and boys in this book, help us better understand it.
Feminist girls and boys like all colors, wear their hair as long as they want and choose their own toys. They love to play all together and express their emotions. But, above all, they refuse to classify things as "girl´s stuff" and "boy´s stuff".

Luis Amavisca and Blanca Lacasa, with Gusti's wonderful illustrations, present, in the form of everyday situations, a brief manual for feminist girls and boys. Equality is everyone's responsibility.
Target Age: 4 to 8
Reviews:
"The art itself is by Gusti, which is a pretty smart move since his is a style that is hard to resist. In showing me this book, Ellen made sure to display her favorite image of a Zoom classroom that shows different kinds of hair. I'm still keen on anything that shows what life was like when the pandemic started." -- School Library Journal
"These examples are offered without explicitly naming the stereotypes, which may be useful in starting conversations with young readers." -- Kirkus Reviews
About the Contributors:

Luis Amavisca is a well-known visual artist and children´s writer in Spain. He has worked and written about equality, solidarity, environment and non-violence. His Bang Bang I Hurt the Moon, was runner-up for the Most Inspirational Children's Picture Book in the International Latino Book Awards. He is the author, along with Alicia Acosta, of two highly successful co-education books: I Love My Colorful Nails! and Benji's Doll. The Ugliest Monster in the World is one of his recently published books.
Blanca Lacasa is a journalist, singer, and writer from Spain. She writes lyrics and books for adults and children, and has been published by several Publishing Houses in Spain. Bow Wow Meow was her first picture book with NubeOcho and her first picture book in the USA.
Gusti is an illustrator, animator and tireless traveler. He has illustrated several children's books, such as The Elephant Caught in a Trap, The Grey Boy and Mallco & Papá, which won the Bologna Ragazzi award in the Disability category. His works have been published in more than 20 countries by publishers such as Gekken and Hachette.