---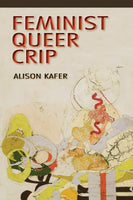 by Alison Kafer
Indiana University Press
5/16/2013, paperback
SKU: 9780253009340
In Feminist, Queer, Crip Alison Kafer imagines a different future for disability and disabled bodies. Challenging the ways in which ideas about the future and time have been deployed in the service of compulsory able-bodiedness and able-mindedness, Kafer rejects the idea of disability as a pre-determined limit. She juxtaposes theories, movements, and identities such as environmental justice, reproductive justice, cyborg theory, transgender politics, and disability that are typically discussed in isolation and envisions new possibilities for crip futures and feminist/queer/crip alliances. This bold book goes against the grain of normalization and promotes a political framework for a more just world.
Reviews:
"Kafer interrogates the ableist assumptions that pervade social and academic discourses and offers a critique of how these assumptions are put into practice in ways that directly affect the lives of people with disabilities. This is an original and comprehensive work that brings together disability studies, feminist theory, and queer theory." --Licia Carlson, Providence College
"Feminist Queer Crip is a unique addition to the feminist, disability literature that could easily serve as a supplemental text in a disability studies or queer studies undergraduate or graduate course. . . . it is certainly relevant to academicians, researchers and clinicians interested in the future of disability studies and provides an intriguing list of diverse examples with which to further explore this too often invisible topic." -- Sex Roles
About the Author:
Alison Kafer is Associate Professor and Chair of the Department of Feminist Studies at Southwestern University.