---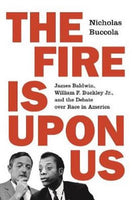 by Nicholas Buccola
Princeton University Press
9/1/2020, paperback
SKU: 9780691210773
How the legendary debate between a civil rights firebrand and the father of modern conservatism illuminates America's racial divide 
On February 18, 1965, an overflowing crowd packed the Cambridge Union in Cambridge, England, to witness a historic televised debate between James Baldwin, the leading literary voice of the civil rights movement, and William F. Buckley Jr., a fierce critic of the movement and America's most influential conservative intellectual. The topic was the American dream is at the expense of the American Negro, and no one who has seen the debate can soon forget it.
Nicholas Buccola's The Fire Is upon Us is the first book to tell the full story of the event, the radically different paths that led Baldwin and Buckley to it, and how the debate and the decades-long clash between the men illuminates the racial divide that continues to haunt America today.
Reviews:
"Ambitious and interesting . . . a genealogy of how white supremacy--and attempts to slay it--have stayed at the center of American politics for more than half a century, up to and including our Trumpian present." --Bill V. Mullen, Los Angeles Review of Books
"Drawing deep from archives while reminding us of that classic, grainy video of Baldwin and Buckley squaring off in England, Buccola brilliantly illuminates the American dilemma of race in the context of the early sixties, as well as now. As historian and political analyst, he deftly captures these two iconic wordsmiths at the peak of their divergent powers. How forcefully the past is past, but also so present in the hands of a superb scholar." --David W. Blight, Pulitzer Prize- winning author of Frederick Douglass: Prophet of Freedom
About the Author:
Nicholas Buccola is the author of The Political Thought of Frederick Douglass. His work has appeared in the New York Times, Salon, and many other publications. He is the Elizabeth and Morris Glicksman Chair in Political Science at Linfield College in McMinnville, Oregon.