---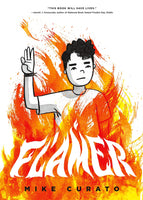 by Mike Curato
Henry Holt & Company
9/1/2020, paperback
SKU: 9781250756145
Award-winning author and artist Mike Curato draws on his own experiences in Flamer, his debut graphic novel, telling a difficult story with humor, compassion, and love.
"This book will save lives." -- Jarrett J. Krosoczka, author of National Book Award Finalist Hey, Kiddo
I know I'm not gay. Gay boys like other boys. I hate boys. They're mean, and scary, and they're always destroying something or saying something dumb or both.
I hate that word. Gay. It makes me feel... unsafe.
It's the summer between middle school and high school, and Aiden Navarro is away at camp. Everyone's going through changes--but for Aiden, the stakes feel higher. As he navigates friendships, deals with bullies, and spends time with Elias (a boy he can't stop thinking about), he finds himself on a path of self-discovery and acceptance.
Target age: 14 to 18
Reviews:
"Masterfully nuanced and stunningly told, this is visual storytelling at its finest." -- Booklist, starred review
"Curato has created a beautiful story of a teen who must decide if he will force himself into the mold of what he thinks a "normal" boy is, or if he can allow himself to live life on his own terms. An essential book that shows readers that they are never alone in their struggles." -- School Library Journal, starred review
"Cleverly inked and masterfully told... Both heartbreaking and joyous, Flamer acknowledges the brutal weight of hatred, yet inspires the courage to live." -- Shelf Awareness, starred review
"I wish I had had this book fifty years ago." -- The Horn Book, starred review
About the Author:
Mike Curato is the author and illustrator of the Little Elliot series and has illustrated a number of other books for children, including Worm Loves Worm. Flamer is Mike's first graphic novel.