---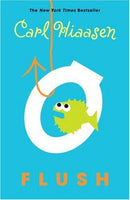 by Carl Hiaasen
Yearling
2005, paperback
SKU: 9780375861253
Bestselling novelist Carl Hiaasen is back with another hysterical mystery adventure for young readers, set in the Florida Keys.
Noah's dad has a little problem with anger control. He tried to stop the Coral Queen casino boat's illegal dumping . . . by sinking the boat. But his bold protest fizzles: within days the casino is back in business, and Noah's dad is behind bars and out of action.
Now Noah is determined to succeed where his father failed. But even though pumping raw sewage into the waters of the Florida Keys is both gross and against the law, turns out it's near impossible to catch the flusher?especially when he's already bamboozled the prosecutors, the local press, and even the Coast Guard.
But Noah's got a few allies. There's his little sister, Abbey, an unreformed childhood biter; Lice Peeking, a half-soused ex-mate of the Coral Queen who is willing to testify . . . for a price; and Shelly, a bighearted bartender with even bigger biceps.
Okay, so the odds aren't good. But Noah has an ace up his sleeve-a plan so crazy it just might stop the polluting, save the beaches, and prove to the world that it's the owner of the Coral Queen, and not his dad, who is full of . . . crud.