---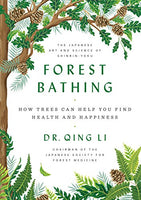 by Dr. Qing Li

Penguin Life

4/17/2018, hardcover

SKU:  9780525559856
The definitive guide to the therapeutic Japanese practice of shinrin-yoku, or the art and science of how trees can promote health and happiness
Notice how a tree sways in the wind. Run your hands over its bark. Take in its citrusy scent. As a society we suffer from nature deficit disorder, but studies have shown that spending mindful, intentional time around trees–what the Japanese call shinrin-yoku, or forest bathing–can promote health and happiness.
In this beautiful book–featuring more than 100 color photographs from forests around the world, including the forest therapy trails that criss-cross Japan–Dr. Qing Li, the world's foremost expert in forest medicine, shows how forest bathing can reduce your stress levels and blood pressure, strengthen your immune and cardiovascular systems, boost your energy, mood, creativity, and concentration, and even help you lose weight and live longer.
Once you've discovered the healing power of trees, you can lose yourself in the beauty of your surroundings, leave everyday stress behind, and reach a place of greater calm and wellness.
Reviews:
"A joyful guide . . . If there's anyone who understands the magic of time spent under arboreal canopies, it's Qing Li, the Japanese doctor who helped spread the gospel of shinrin-yoku ('forest bathing') around the world." —Outside
"This wonderful book . . . is itself a tribute to forests and the magnificence of trees, featuring more than 100 color photographs of forests around the world." —NPR
"The definitive guide to a Japanese therapy that says that mindful, intentional time spent around trees can reduce stress levels, boost mood and creativity, and even help you live longer." —BuzzFeed
About the Author:
Dr. Qing Li is the world's foremost expert in forest medicine. A medical doctor at Tokyo's Nippon Medical School, he has been a visiting fellow at the Stanford University School of Medicine and is a founding member and chairman of the Japanese Society for Forest Medicine, a leading member of the Task Force of Forests and Human Health, and the vice president and secretary general of the International Society of Nature and Forest Medicine.