---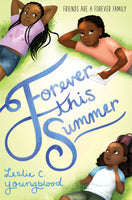 by Leslie C. Youngblood
Little, Brown Books for Young Readers
6/14/2022, paperback

SKU: 9780316103213
Georgie has no idea what to expect when she, Mama, and Peaches are plopped down in the middle of small town USA--aka Bogalusa, Louisiana--where Mama grew up and Great Aunt Vie needs constant care. Georgie wants to help out at the once famous family diner that served celebrities like the Jackson 5 and the Supremes, but everyone is too busy to show her the ropes and Mama is treating her like a baby, not letting her leave her sight. When she finally gets permission to leave on her own, Georgie makes friends with Markie--a foster kid who'd been under Aunt Elvie's care--who has a limb difference and a huge attitude. Then Markie asks Georgie to help her find her mom, and suddenly summer has a real purpose. But as Georgie and Markie's histories begin to entwine, Georgie becomes more desperate to find the truth. But words spoken cannot be taken back and once Georgie knows the truth, she may even find a way to right past wrongs and help Aunt Vie and Markie out after all.
Target age: 8 to 12
Reviews:
"Youngblood's thoughtful story doesn't shy away from big subjects--Alzheimer's, foster care, racial injustice--and Georgie is a warm and witty guide through it all. A welcoming and worthwhile exploration of Southern small-town dynamics and the all-important ties that bind both friends and family."-- Booklist
A glorious, big-hearted, and joyful novel! Forever This Summer celebrates three talented girls who discover, with love and empathy, they can triumph, heal, and inspire one another as well as their families and community.-- Jewell Parker Rhodes, New York Times bestselling author of Ghost Boys and Black Brother, Black Brother
About the Author:
Leslie C. Youngblood received an MFA from the University of North Carolina at Greensboro. A former assistant professor of creative writing at Lincoln University in Jefferson City, she has lectured at Mississippi State University, UNC-Greensboro, and the University of Ghana at Legon. She's been awarded a host of writing honors, including a 2014 Yaddo's Elizabeth Ames Residency, the Lorian Hemingway Short Story Prize, a Hurston Wright Fellowship, and the Room of Her Own Foundation's 2009 Orlando Short Story Prize. In 2010 she won the Go On Girl! Book Club Aspiring Writer Award. Born in Bogalusa, Louisiana, and raised in Rochester, she's fortunate to have a family of natural storytellers and a circle of supportive family and friends. Love Like Sky was her first novel.