---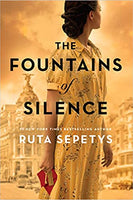 by Ruta Sepetys
Penguin Books
9/29/2020, paperback

SKU: 9780142423639

From the #1 New York Times bestselling author of Salt to the Sea and Between Shades of Gray comes a gripping, extraordinary portrait of love, silence, and secrets under a Spanish dictatorship.
Madrid, 1957. Under the fascist dictatorship of General Francisco Franco, Spain is hiding a dark secret. Meanwhile, tourists and foreign businessmen flood into Spain under the welcoming promise of sunshine and wine. Among them is eighteen-year-old Daniel Matheson, the son of an oil tycoon, who arrives in Madrid with his parents hoping to connect with the country of his mother's birth through the lens of his camera. Photography--and fate--introduce him to Ana, whose family's interweaving obstacles reveal the lingering grasp of the Spanish Civil War--as well as chilling definitions of fortune and fear. Daniel's photographs leave him with uncomfortable questions amidst shadows of danger. He is backed into a corner of difficult decisions to protect those he loves. Lives and hearts collide, revealing an incredibly dark side to the sunny Spanish city.
Master storyteller Ruta Sepetys once again shines light into one of history's darkest corners in this epic, heart-wrenching novel about identity, unforgettable love, repercussions of war, and the hidden violence of silence--inspired by the true postwar struggles of Spain.
Includes vintage media reports, oral history commentary, photos, and more.
Target age: 13 to 17
Reviews:
"Spain under Francisco Franco is as dystopian a setting as Margaret Atwood's Gilead in Ruta Sepetys's suspenseful, romantic and timely new work of historical fiction . . . Like [Shakespeare's family romances], 'The Fountains of Silence' speaks truth to power, persuading future rulers to avoid repeating the crimes of the past." --The New York Times Book Review
"Full of twists and revelations...an excellent story, and timely, too." --The Wall Street Journal

"[Sepetys] tells a moving story made even more powerful by its placement in a lesser-known historical moment. Captivating, deft, and illuminating historical fiction." --Booklist, *STARRED REVIEW*
"A stunning novel that exposes modern fascism and elevates human resilience." --Kirkus, *STARRED REVIEW*
"This gripping, often haunting historical novel offers a memorable portrait of fascist Spain." --Publishers Weekly, *STARRED REVIEW*
"This richly woven historical fiction . . . will keep young adults as well as adults interested from the first page to the last." --SLC, *STARRED REVIEW*
About the author:
Ruta Sepetys is an internationally acclaimed, #1 New York Times bestselling author of historical fiction published in over sixty countries and forty languages. Sepetys is considered a "crossover" novelist, as her books are read by both teens and adults worldwide. Her novels Between Shades of Gray, Out of the Easy, Salt to the Sea, and The Fountains of Silence have won or been shortlisted for more than forty book prizes, and are included on more than sixty state award lists. Between Shades of Gray was adapted into the film Ashes in the Snow, and her other novels are currently in development for TV and film. Winner of the Carnegie Medal, Ruta is passionate about the power of history and literature to foster global awareness and connectivity. She has presented to NATO, to the European Parliament, in the United States Capitol, and at embassies worldwide. Ruta was born and raised in Michigan and now lives with her family in Nashville, Tennessee.