---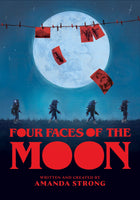 by Amanda Strong
Annick Press
9/7/2021, paperback
SKU: 9781773214535
On a journey to uncover her family's story, Spotted Fawn travels through time and space to reclaim connection to ancestors, language, and the land--creating a path forward in this essential graphic novel.

In the dreamworld she bears witness to a mountain of buffalo skulls. They stand as a ghostly monument to the slaughter of the Plains bison to near extinction-- a key tactic to starve and contain the Indigenous People onto reservations. On this path, Spotted Fawn knows she must travel through her own family history to confront the harsh realities of the past and reignite her connection to her people and the land. Her darkroom becomes a portal, and her photographs allow her glimpses into the lives of her relatives over the course of four chapters of this book, which follow the phases of the moon. Time and space become unlocked and unfurl in front of her eyes. Guided by her ancestors, Spotted Fawn's travels through the past allow her to come into full face--like the moon itself.

Adapted from the acclaimed stop-motion animated film of the same name, written and directed by Amanda Strong, Four Faces of the Moon brings the oral and written history of the Michif, Cree, Nakoda and Anishinaabe Peoples and their cultural link to the buffalo alive on the page. Deeply resonant and beautifully rendered, this graphic novel retelling is essential reading.

Backmatter by Dr. Sherry Farrell-Racette (Michif), an associate professor of Native Studies and Women's and Gender Studies at the University of Manitoba, provides information on Michif culture and history and the injustices of colonialism.
Target age: 13 to 17
About the Contributors:
Amanda Strong is a Michif filmmaker, illustrator, media artist, and stop-motion director, as well as the founder of Spotted Fawn Productions, an Indigenous-led production studio that provides mentorship and training opportunities for emerging and diverse artists. She is based out of the unceded Coast Salish territory in Vancouver, British Columbia.
Sherry Farrell Racette (Métis/Algonquin/Irish) is an interdisciplinary scholar with an active artistic and curatorial practice. She was born in Manitoba and is a member of Timiskaming First Nation in Quebec (unceded Algonquin territory). Prior to her doctoral studies, she had an extensive career in Indigenous education. Her work as a cultural historian is grounded in archival research and object-based study in museum collections with an emphasis on retrieving women's voices and recovering aesthetic knowledge.In addition to her painting, beading and textile work, she has illustrated eight children's books, collaborating with some of Canada's most noted Indigenous authors. Farrell Racette is currently teaching in the Department of Visual Arts, Faculty of Media, Art and Performance at the University of Regina.