---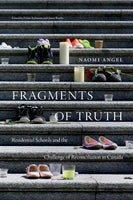 by Naomi Angel, Edited by Dylan Robinson and Jamie Berthe
Duke University Press
10/28/2022, paperback
SKU: 9781478018575
In 2008, the Canadian government established a Truth and Reconciliation Commission (TRC) to review the history of the residential school system, a brutal colonial project that killed and injured many Indigenous children and left a legacy of trauma and pain.
In Fragments of Truth Naomi Angel analyzes the visual culture of reconciliation and memory in relation to this complex and painful history. In her analyses of archival photographs from the residential school system, representations of the schools in popular media and literature, and testimonies from TRC proceedings, Angel traces how the TRC served as a mechanism through which memory, trauma, and visuality became apparent. She shows how many Indigenous communities were able to use the TRC process as a way to claim agency over their memories of the schools. Bringing to light the ongoing costs of transforming settler states into modern nations, Angel demonstrates how the TRC offers a unique optic through which to survey the long history of colonial oppression of Canada's Indigenous populations.

Reviews:
"In Fragments of Truth, Naomi Angel has left us with a wide-ranging meditation on the visual legacies of colonialism. Her unsettling reflections on the afterlife of images guide us through the troubled history of residential schools and their aftermath. She is both agent and observer of a shift in relations of looking, offering a unique perspective on truth, memory, national identity, and the meaning of reconciliation." -- Ronald Niezen, author of #HumanRights: The Technologies and Politics of Justice Claims in Practice
About the Contributors:
Naomi Angel (1977-2014) completed her PhD in Media, Culture, and Communication at New York University in 2013.
Dylan Robinson is Associate Professor and Canada Research Chair in Indigenous Arts at Queen's University.
Jamie Berthe is Lecturer at New York University.