---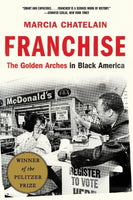 by Marcia Chatelain
Liveright Publishing Cooperation
01/19/2021, paperback
SKU: 9781631498701
From civil rights to Ferguson, Franchise reveals the untold history of how fast food became one of the greatest generators of black wealth in America. Often blamed for the rising rates of obesity and diabetes among black Americans, fast food restaurants like McDonald's have long symbolized capitalism's villainous effects on our nation's most vulnerable communities. But how did fast food restaurants so thoroughly saturate black neighborhoods in the first place? In Franchise, acclaimed historian Marcia Chatelain uncovers a surprising history of cooperation among fast food companies, black capitalists, and civil rights leaders, who -- in the troubled years after King's assassination -- believed they found an economic answer to the problem of racial inequality. With the discourse of social welfare all but evaporated, federal programs under presidents Johnson and Nixon promoted a new vision for racial justice: that the franchising of fast food restaurants, by black citizens in their own neighborhoods, could finally improve the quality of black life. Synthesizing years of research, Franchise tells a troubling success story of an industry that blossomed the very moment a freedom movement began to whither.
Reviews:
"Franchise is a stunning story of post-1960s urban black America, a tale of triumph and good intentions, but also of tragic consequences for race relations, poverty, and dietary health. Marcia Chatelain has done superb research and writes as a great storyteller. This is an important book, showing that civil rights successes led to burgers under black ownership as much as ballots for social change. Chatelain makes us see black capitalism in all its mixed blessings." -- David W. Blight, Yale University, and author of the Pulitzer Prize-winning Frederick Douglass: Prophet of Freedom
"Chatelain makes a convincing case that racial tension, the civil rights movement, and fast food all combined to change the dynamic of mostly black communities ignored by white power structures. Chatelain's impressive research and her insertion of editorial commentary will prove educational and enlightening for readers of all backgrounds. An eye-opening and unique history lesson." -- Kirkus Reviews
About the Author:
Marcia Chatelain is a professor of history and African American studies at Georgetown University, and is a leading public voice on the history of race, education, and food culture. The author of South Side Girls, Chatelain lives in Washington, DC.