---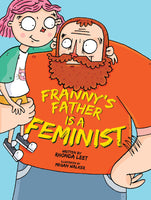 by Rhonda Leet, Illustrated by Megan Walker
POW!
2/28/2018, hardcover
SKU: 9781576878736
Franny's Father is a Feminist. It's simple, really! He knows that girls can do anything boys can do, and raises Franny to believe that she deserves all the same rights, freedoms, and opportunities to fulfill her dreams that he had.
Through sweet, straight-forward prose, Franny's Father portrays the loving bond between a young girl, and her father who isn't afraid of bucking gender norms in order to ensure that his daughter grows up smart, strong, and full of self confidence. From teaching her to fix her own bicycle and splashing in the mud, to cheering at ballet recitals and supporting Franny's mother in her career, Franny's Father displays what it means for a man to be a Feminist, and how male Feminism can play a vital role in the empowerment of young women.
Target age: 3-7
Reviews:
"Little readers learn what it means to be a feminist. As the title says, Franny's father is a feminist. Feminists, small print explains, believe "that girls can do everything boys can do, and...[that girls deserve] all the same rights, freedoms, and opportunities that" boys have. The story goes on to explore what it means to raise a child with an equal-opportunity philosophy, highlighting Franny's father's childhood as a budding feminist and showing several real-world examples of how feminism influences Franny's development. Franny and her father are white, but Franny's friend Sasha is black, as is her father (who also happens to be a feminist). The illustrations boast cartoon characters with pop eyes. The color palette mixes pinks, baby blues, and greens to excellent effect, mirroring the muddying of traditional gender roles--Franny's father is the primary caregiver, while Franny's mom "has an important job" outside the home. The book's tone is informative rather than preachy, presenting feminism not as the only way to be but rather a sensible caregiving choice. Some caregivers may be able to use this title to sort out their own feelings on the subject. An excellent primer on what feminism and allyship entail."  --Kirkus Reviews, STARRED REVIEW
About the Author:
Rhonda Leet is a teacher and advocate for children. Rhonda's passion for children's books has grown from reading them to her students to writing her debut picture book, Franny's Father is a Feminist. Rhonda believes all children deserve to thrive in the classroom and throughout their lives, regardless of their gender. She is a lifelong learner who typically has a book in her hand. When Rhonda isn't reading and writing, she can be found tending her gardens and caring for her sheep, chickens and husband!
Megan Walker was born and raised in Birmingham, UK, where she still lives and works today. Her love of drawing and stories began at a young age; scribbling away on any paper she could get ahold of, and devouring as many books as possible. She graduated from the University of Gloucestershire in 2014 with a degree in Illustration. She is a member of the Society of Children's Book Writers and Illustrators, and was selected as the Featured Illustrator for June 2017. Franny's Father is a Feminist is her first picture book.