---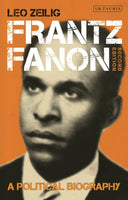 by Leo Zeilig
I.B. Taurus & Company
3/25/2021, paperback
SKU: 9780755638215
Frantz Fanon was one of the twentieth-century's most influential theorists and activists, whose work fighting against colonialism and imperialism has been an inspiration to today's decolonization and anti-racism movements. As the author of essential texts such as The Wretched of the Earth and Black Skin, White Masks, his impact on today's activists - from Rhodes Must Fall to Black Lives Matter - is indelible.
Leo Zeilig here details the fascinating life of Fanon - from his upbringing in Martinique to his wartime experiences and work in Europe and North Africa - and frames his ideas and activism within the greater context of his career as a practising psychiatrist and his politically tumultuous surroundings. The book covers the period of the Algerian War of Independence, national liberation and what Fanon described as 'the curse of independence'.
Highlighting Fanon's role as the most influential theorist of anti-colonialism and racial liberation, this book is an essential read for those interested in the roots of the modern day anti-racism and decolonization movements.
Reviews:
"No revolutionary is born ready, Leo Zeilig states in his introduction to Frantz Fanon: The Militant Philosopher of Third World Revolution, and in this smoothly written biography, he proceeds to provide an insight into the complexities that made up this remarkable thinker... In today's world, where the Black Lives Matter movement highlights the disillusionment of a people who were once so excited about a black president, and where the endless war on terrorism can resemble the kind of self-serving and arbitrary exercising of power conducted by colonising states, his ideas are as relevant as ever." --The Independent
About the Author:

Leo Zeilig has written extensively on African politics and history, including books on working-class struggle and the development of revolutionary movements and biographies on some of Africa's most important political thinkers and activists. Leo is an editor of the Review of African Political Economy-the radical African-studies journal founded by activists and scholars in 1974-and a Senior Research Fellow at the Institute of Commonwealth Studies at the University of London.