---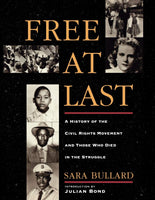 by Sara Bullard
Oxford University Press
10/6/1994, paperback
SKU:  9780195094503
Here is an illustrated history of the civil rights movement, written and designed for ages 10 to adult, that clearly and effectively brings the turbulent years of struggle to life, and gives a vivid and powerful experience of what it was like not so very long ago. Provides a brief overview of black history in the US, discussing the civil-rights movement chronologically through stories and photos.

Reviews:
The publication of Free at Last is especially important to today's teachers, librarians, and parents.-- National Black Review
Filled with photographs that strike a chord even in those too young to remember the events...[and] add a personal touch that brings history alive.-- The Reading Teacher
About the Author:
Sara Bullard is editor of Teaching Tolerance, a national educational magazine, and director of the Teaching Tolerance Project at the Southern Poverty Law Center in Montgomery, Alabama.