---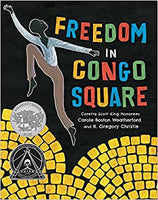 by Carole Boston Weatherford, Illustrated by R. Gregory Christie
Little Bee Books
1/5/2016, hardcover
SKU: 9781499801033

This poetic, nonfiction story about a little-known piece of African American history captures a human's capacity to find hope and joy in difficult circumstances and demonstrates how New Orleans' Congo Square was truly freedom's heart.
Mondays, there were hogs to slop,
mules to train, and logs to chop.
Slavery was no ways fair.
Six more days to Congo Square.
As slaves relentlessly toiled in an unjust system in 19th century Louisiana, they all counted down the days until Sunday, when at least for half a day they were briefly able to congregate in Congo Square in New Orleans. Here they were free to set up an open market, sing, dance, and play music. They were free to forget their cares, their struggles, and their oppression. This story chronicles slaves' duties each day, from chopping logs on Mondays to baking bread on Wednesdays to plucking hens on Saturday, and builds to the freedom of Sundays and the special experience of an afternoon spent in Congo Square. This book includes a forward from Freddi Williams Evans (freddievans.com), a historian and Congo Square expert, as well as a glossary of terms with pronunciations and definitions.
Reviews:
Subtle and layered, this is an important story beautifully told.-- Booklist
Though most of the faces are featureless, Christie's use of sharp angles in the slaves' bodies as he depicts their back-breaking work evinces their ever-present emotional and physical suffering. When they reach Congo Square, though, the figures elongate and have softer curves and angles, allowing them to relax and to dance; they leap as high as Weatherford's joyful verse. Weatherford's foreword provides historical context for the real place the book describes.-- "Horn Book Magazine
About the Contributors:
Carole Boston Weatherford is an award-winning nonfiction children's book author. Her books have received numerous accolades, including a Caldecott Honor for Moses: When Harriet Tubman Led Her People to Freedom and a Coretta Scott King Award Honor for Becoming Billie Holiday, as well as the NAACP's Image Award. She is currently a professor and Director of Professional Writing at Fayetteville State University in North Carolina.
R. Gregory Christie is a three-time recipient of a Coretta Scott King Award Honor for illustration (Brothers in Hope: The Story of the Lost Boys of Sudan; Only Passing Through: The Story of Sojourner Truth; The Palm of My Heart: Poetry by African American Children), a two-time winner of the New York Times' 1 Best Illustrated Children's Books of the Year (in 2 for Only Passing Through and in 22 for Stars in the Darkness), a honor winner of the Theodor Seuss Geisel Award for illustration (Jazz Baby), and a recipient of the NAACP's Image Award. He operates GAS-ART GIFTS, a children's bookstore with autographed copies in Decatur, Georgia.