---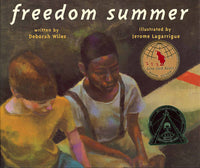 by Deborah Wiles, Illustrated by Jerome Lagarrigue
Aladdin
2001, paperback
SKU: 9780689878299
John Henry swims better than anyone I know. He crawls like a catfish, blows bubbles like a swamp monster, but he doesn't swim in the town pool with me. He's not allowed.
Joe and John Henry are a lot alike. They both like shooting marbles, they both want to be firemen, and they both love to swim. But there's one important way they're different: Joe is white and John Henry is black and in the South in 1964, that means John Henry isn't allowed to do everything his best friend is. Then a law is passed that forbids segregation and opens the town pool to everyone. Joe and John Henry are so excited they race each other there...only to discover that it takes more than a new law to change people's hearts. This stirring account of the "Freedom Summer" that followed the passage of the Civil Rights Act of 1964 powerfully and poignantly captures two boys' experience with racism and their friendship that defies it.
Awards and Nominations: 
Children's Literature Choice List,
Coretta Scott King/John Steptoe Award,
Ezra Jack Keats New Illustrator Award
Reviews:
Kirkus Reviews, starred review Teachers and parents could use this book as a quiet but powerful introduction to the prejudice experienced by many Americans.
Library Talk, starred review An excellent book...History will come alive for present-day students.