---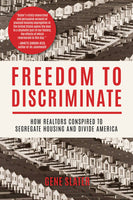 by Gene Slater 
Heyday Books
9/21/2021, hardcover
SKU: 9781597145435
A bracing, original look at the connected histories of real estate, institutionalized racism, and our political polarization 
A landmark history told with supreme narrative skill, Freedom to Discriminate uncovers realtors' definitive role in segregating America and shaping modern conservative thought. Gene Slater follows this story from inside the realtor profession, drawing on many industry documents that have remained unexamined until now. His book traces the increasingly aggressive ways realtors justified their practices, how they successfully weaponized the word "freedom" for their cause, and how conservative politicians have drawn directly from realtors' rhetoric for the past several decades. Much of this story takes place in California, and Slater demonstrates why one of the very first all-white neighborhoods was in Berkeley, and why the state was the perfect place for Ronald Reagan's political ascension.  
The hinge point in this history is Proposition 14, a largely forgotten but monumentally important 1964 ballot initiative. Created and promoted by California realtors, the proposition sought to uphold housing discrimination permanently in the state's constitution, and a vast majority of Californians voted for it. This vote had explosive consequences--ones that still inform our deepest political divisions today--and a true reckoning with the history of American racism requires a closer look at the events leading up to it. Freedom to Discriminate shatters preconceptions about American segregation, and it connects many seemingly disparate aspects of the nation's history in a novel and galvanizing way.
Reviews:
"A searing account of how the professional gatekeepers of America's neighborhoods--realtors--constructed and reconstructed the ideas that anchored the gates of residential segregation, as told by someone who spent a career trying to tear them down. Mining the largely unexcavated records of realtors themselves, many of them smoking guns, Freedom to Discriminate offers a critical perspective on the history of housing discrimination: how its ostensibly race-neutral defense helped shape American political conservatism and, ultimately, underpin the yawning contemporary racial wealth gap."-- Mark Brilliant, Associate Professor, Department of History, and Director, Program in American Studies, University of California, Berkeley
"Slater's richly researched and persuasive account of planned housing segregation in the United States opens the door to a shameful part of our history, the effects of which reverberate to this day. This work should be read by all who are interested in America's current racial predicament."-- Annette Gordon-Reed, author of On Juneteenth
About the Author:
Gene Slater has served as senior advisor on housing for federal, state, and local agencies for over forty years. Slater cofounded and chairs CSG Advisors, which has been one of the nation's leading advisors on affordable housing for decades. His projects have received numerous national awards, and in the aftermath of the financial crisis in 2009 he helped design the program by which the United States Treasury financed homes for 110,000 first-time buyers. He holds degrees from Columbia, MIT, and Stanford. Born and raised in Brooklyn, he now lives in the Bay Area.