---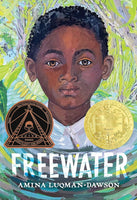 by Amina Luqman-Dawson
Jimmy Patterson
8/15/2023, paperback
SKU: 9780316056670
Award-winning author Amina Luqman-Dawson pens a lyrical, accessible historical middle-grade novel about two enslaved children's escape from a plantation and the many ways they find freedom. 
Under the cover of night, twelve-year-old Homer flees Southerland Plantation with his little sister Ada, unwillingly leaving their beloved mother behind. Much as he adores her and fears for her life, Homer knows there's no turning back, not with the overseer on their trail. Through tangled vines, secret doorways, and over a sky bridge, the two find a secret community called Freewater, deep in the swamp.
In this society created by formerly enslaved people and some freeborn children, Homer finds new friends, almost forgetting where he came from. But when he learns of a threat that could destroy Freewater, he crafts a plan to find his mother and help his new home.
Deeply inspiring and loosely based on the history of maroon communities in the South, this is a striking tale of survival, adventure, friendship, and courage.

Reviews:
"Skillfully drawing memorable characters and moving them towards an exciting, heartfelt resolution, Luqman-Dawson does not shy away from the realities of slavery. This lyrical story of hope, strength, and ingenuity will be gobbled up by young history buffs and adventure lovers. Direct your Christopher Paul Curtis and Avi fans this way." -- Booklist, starred review
"This is detailed and well-researched historical fiction. The characters are varied, complex, and fully realized... The page-turning action will engage readers as the story reaches a satisfying conclusion. An exceptional addition to the resistance stories of enslaved people." -- Kirkus, starred review

About the Author:
Amina Luqman-Dawson is the Newbery Medal and Coretta Scott King Award-winning and bestselling author of Freewater and the pictorial history book Images of America: African Americans of Petersburg. Her op-eds on race and popular culture have appeared in The Washington Post, The San Francisco Chronicle, and more. She, her husband, and her son reside in Arlington, VA.