---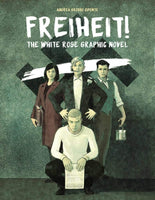 by Andrea Grosso Giponte
Plough Publishing House
2/16/2021, hardcover
SKU: 9780874863444
The dramatic true story of a handful of students who resisted the Nazis and paid with their lives, now in a stunning graphic novel.
With an entire nation blindly following an evil leader, where did a handful of students find the courage to resist? The university students who formed the White Rose, an undercover resistance movement in Nazi Germany, knew that doing so could cost them their lives. But some things are worth dying for.
The White Rose printed and distributed leaflets to expose Nazi atrocities and wake up their fellow citizens. The Gestapo caught and executed them. Sophie Scholl was twenty-one; her brother Hans, twenty-four; Christoph Probst, twenty-three; Alexander Schmorell and Willi Graf, twenty-five.
But the White Rose was not silenced. Their heroism continues to inspire new generations of resisters. Now, for the first time, this story that has been celebrated in print and film can be experienced as a graphic novel. Italian artist Andrea Grosso Ciponte's haunting imagery will resonate with today's students and activists. The challenges they face may vary, but the need for young people to stand up against evil, whatever the cost, will remain.
Reviews:
Well told in dramatic, eloquent fashion. --Critical Blast
The art ... will pull in readers. At times it's rough and jagged, at others dreamlike with biblical imagery floating around and intertwining with the dark age environment... A great addition to graphic novel collections. --School Library Journal
About the Author:
Andrea Grosso Ciponte is a Calabrian painter, graphic novelist, filmmaker, and illustrator. He is a professor of computer graphics and digital animation techniques at the Academy of Fine Arts in Catanzaro, Italy. Ciponte was born in Praia a Mare, Italy, in 1977. In 2011 his work was shown at the Venice Biennale. His graphic novel Renegade: Martin Luther, The Graphic Biography, won gold at the Independent Publisher Book Awards and at the Indies Awards.