---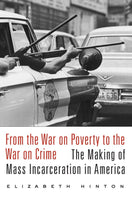 by Elizabeth Hinton
Harvard University Press
9/4/2017, paperback
SKU: 9780674979826
In the United States today, one in every thirty-one adults is under some form of penal control, including one in eleven African American men. How did the "land of the free" become the home of the world's largest prison system? Challenging the belief that America's prison problem originated with the Reagan administration's War on Drugs, Elizabeth Hinton traces the rise of mass incarceration to an ironic source: the social welfare programs of Lyndon Johnson's Great Society at the height of the civil rights era.
Johnson's War on Poverty policies sought to foster equality and economic opportunity. But these initiatives were also rooted in widely shared assumptions about African Americans' role in urban disorder, which prompted Johnson to call for a simultaneous War on Crime. The 1965 Law Enforcement Assistance Act empowered the national government to take a direct role in militarizing local police. Federal anticrime funding soon incentivized social service providers to ally with police departments, courts, and prisons. Under Richard Nixon and his successors, welfare programs fell by the wayside while investment in policing and punishment expanded. Anticipating future crime, policymakers urged states to build new prisons and introduced law enforcement measures into urban schools and public housing, turning neighborhoods into targets of police surveillance.
By the 1980s, crime control and incarceration dominated national responses to poverty and inequality. The initiatives of that decade were less a sharp departure than the full realization of the punitive transformation of urban policy implemented by Republicans and Democrats alike since the 1960s.
Co-Winner of the Thomas J. Wilson Memorial Prize
A New York Times Notable Book of the Year
A New York Times Book Review Editors' Choice
A Wall Street Journal Favorite Book of the Year
A Choice Outstanding Academic Title of the Year
A Publishers Weekly Favorite Book of the Year
Reviews:
"An extraordinary and important new book."  -- Jill Lepore, New Yorker
"Hinton's book is more than an argument; it is a revelation...There are moments that will make your skin crawl...This is history, but the implications for today are striking. Readers will learn how the militarization of the police that we've witnessed in Ferguson and elsewhere had roots in the 1960s."  -- Imani Perry, New York Times Book Review
About the Author:
Elizabeth Hinton is Associate Professor of History and African American Studies at Yale University and Professor of Law at Yale Law School. From the War on Poverty to the War on Crime received widespread acclaim and was named a New York Times Notable Book and one of Oprah Magazine's "Books to Better Understand the History of Racism in America."